A group of Belize Amazon parrots awaiting release
As part of the 12th Parrot Lovers Cruise in November 2019, a group of around 40 parrot enthusiasts gathered on board a large cruise liner, leaving Miami to sail south-west out along the coastline of Cuba, to the western Caribbean Sea. Our first landfall was in Grand Cayman, where we visited the Queen Elizabeth Botanic Park, and saw Cayman Parrots (Amazona leucocephala caymanensis – a sub-species of the Cuban Amazon – and blue iguanas. Second stop was Roatan, where we visited Gumbalimba Park, with many Macaws and Amazon parrots, plus black iguanas and humming birds. Our fourth stop before sailing back to Miami was at the spectacular Xcaret Park, near Cozumel, in Mexico, with its huge walk-through aviary and adjacent butterfly house. The aviary featured a large variety of birds, including several species of Amazon parrots and Macaws. The penultimate shore visit – and the subject of this article – was to Belize (formerly British Honduras).
This small, central American country is sandwiched between Mexico to the north and Guatemala to the west and south. A tender ferried us to shore, then a bus drove us for one hour inland to reach Belize Bird Rescue. This name now belies the expanded scope of their work, which involves a lot more in the way of conservation, education, captive-breeding of endangered species, and rehabilitation. We were made very welcome by British couple Jerry & Nikki Buxton, who moved to Belize in 2003. We were able to see a number of permanent avian residents, being disabled in various ways, and had a wander round the numerous outdoor flights containing a variety of parrot species being readied for ultimate release. We were treated to two such lucky birds – a pair of White-capped Pionus parrots (Pionus senilis) – being released from their rehabilitation aviary and exploring the vegetation around their erstwhile home.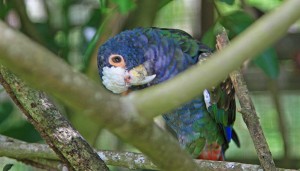 White-capped Pionus parrot just released into the big wide world
Before a light lunch and some welcome cold drinks, Nikki gave us a short presentation about the development of the centre and its work. The couple had intended retiring to the country in 2003 for a leisurely life. However, having an interest in birds – specifically parrots – they soon found themselves taking in a couple of injured Red-lored Amazon parrots, followed quickly by other Amazon species and Olive-throated Conures (Eupsittula nana), as word spread about their interest and expertise. These birds were nursed back to health, and released where possible, but their home soon became over-run with birds, and all their time and money went towards their care. Thus, in April 2004, Belize Bird Rescue was founded.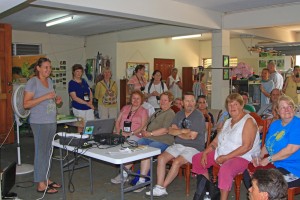 Nikki Buxton (left) addressing the group
Self-funded for many years, their rescue work expanded to include all avian species, including raptors, owls and waterfowl, but still with parrots forming the largest group. Aviaries and ponds were constructed on their now 50-acre reserve and bird sanctuary. From 2014, fund-raising was required to sustain their work, and in 2016 it was registered as a non-profit and non-governmental organisation (NGO). BBR's objective turned fully to a multi-species avian rehabilitation centre, with its primary focus on parrots and the illegal trade in these birds in Belize. Also in 2016 they opened Rock Farm Guest House to support their work.
Nikki reported the following: the 50-acre reserve now has 7 flight aviaries, 16 pre-flight aviaries, 14 quarantine/pairing enclosures, a raptor flight and 6 raptor barns, a water-bird flight, wet room and release pond, 5 off-site pre-release enclosures, a prep room and kitchen, a treatment clinic, and nurseries & quarantine rooms. They provide: rescue, medical care, long and short-term rehabilitation, sanctuary, clinic, hand-rearing of endangered Yellow-headed parrot chicks, (Amazona oratrix belizensis) advice to registered owners, and public education programmes. These birds come from: confiscations, surrenders, escaped pets, injuries and orphans.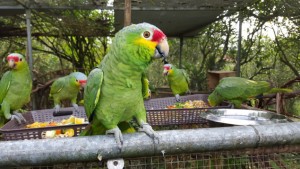 Red-lored Amazon parrots in rehabilitation aviary
Challenges faced are: cultural resistance (native population is accustomed to poaching baby parrots and keeping them as caged pets, and readily replacing them with another when it dies), corruption, lack of funds, limited resources for enforcement, expensive supplies and equipment, slow progress with education and awareness. However, the advantages are: attitudes are gradually changing, and they have Government approval, Belize is a small country of 350,000 people and 500 schools. BBR now has educational visits to every one of these schools, and a country-wide billboard campaign.
The rehabilitation and re-release programme involves the intake of poached babies and ex-pets - birds that have been confiscated or surrendered. Many have clipped wings or damaged feathers, have been fed an inappropriate diet, have been abused or neglected, or are suffering from chronic illness. All birds are health-checked and treated, rung, quarantined and observed, and requisite paperwork is sorted. Once passed fit and healthy, they are grouped in aviaries by species, age & temperament, flying ability, or stage in the rehab programme. The rehab process can take between 6 and 24 months, with the introduction of wild, native foods and confirmation of flying ability and appropriate behaviour patterns.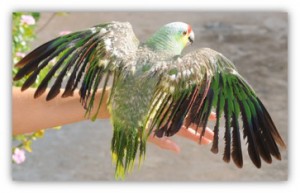 Rescued pet red-lored Amazon parrot, with chronic feather damage
There is also a monitoring programme for free-living Belize Yellow-headed parrots, which are seriously endangered. From a population of over 70,000 in 1975, there were under 7,000 in 1994, falling further to under 1,200 in 2016! Wild nest sites are monitored for fire risk or predation and poaching, in which case chicks are taken for hand-rearing and re-release; while artificial nest boxes are also provided in safe areas. Several rehabilitated parrots are known to have bred successfully back in the wild.
Since 2014, 968 birds of a variety of species have successfully been released, including –
102 Yellow-headed parrots
141 Red-lored Amazons
174 White-fronted parrots (Amazona albifrons)
39 Olive-throated conures
14 Mealy Amazons
16 White-crowned parrots (Pionus senilis)
10 Yellow-lored parrots (Yucatan Amazon, A. xantholora)
BBR has also instituted a Captive Parrot Registration Programme for birds already in captivity. These birds must be hand-tame (therefore not possible to release), in good physical condition, having minimum standards of caging, diet, enrichment and care; and be fitted with a non-removable leg band. In 2016, new licence applications were closed – i.e no new babies could be taken from the wild and registered, and from 2017 powers were granted to confiscate all poached baby parrots.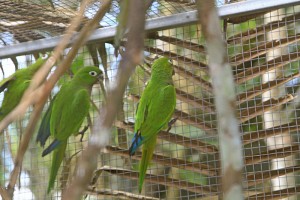 Olive-throated Conures at the centre
The enthusiasm and achievements of this couple in just 15 years impressed us all, and wearing my Parrot Society hat, I could well appreciate the value of their educational and rehabilitation work. Part of the responsibility of the PSUK as a registered charity is "to promote the study, conservation and welfare of all members of the parrot family", and to that end we have a dedicated Conservation Fund. However, selecting worthwhile projects to finance requires careful consideration by your Trustees, especially when that money can be sent abroad to unseen sites, in remote areas, and with unknown operators. Trustees need to be satisfied that any funding will be properly utilised, without waste, and that The Society will receive suitable acknowledgment for their help, and feedback to our members on the results. For the most part we achieve these objectives well, and a number of useful projects have been supported over the years, with many (notably the 'tinning' of trees to protect cockatoo nest sites in Australia) still ongoing.
Recommending financial support for a project is always easier with first-hand knowledge of the people and the work involved. I therefore had no hesitation on my return to the UK to suggest at our next Council meeting that Belize Bird Rescue was a worthy recipient of potential funding. Although PSUK does not financially support Parrot Rescue Centres, BBR is now clearly far more than that. Their education work, and the rehabilitation and re-release of a variety of endangered species is true Conservation, which in my opinion was worthy of our support.
The centre has strong veterinary support in Duane Tom DVM, who gives much of his time for free, but could benefit from a greater range of equipment. I am pleased to report that Council voted unanimously to support these efforts with parrots in Belize by covering the cost of orthopaedic instruments for repair of damaged legs and wings, plus various sundry items (mostly consumables, like dressings, medicines, supplements) totalling $2832.50 (£2210). These funds will enable them to carry on with this excellent work.
Update March 2020: We are pleased to announce that BBR has now used the above PSUK donation to purchase this much-needed equipment, and Nikki Buxton has sent us several photographs of a delighted Dr Tom inspecting the goodies and putting them to good use! A few of those photos are published here, while Dr Tom is back in California in coronavirus lockdown, like many of us!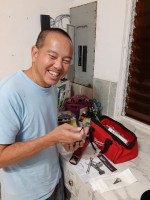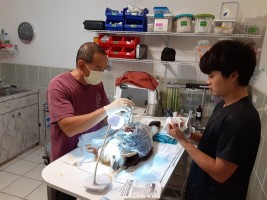 A delighted Dr Duane Tom DVM assessing his new equipment!; operating on the wing of a goose, with a young helper
Nikki reports that "We also bought a baby scale which should arrive this week if the impending lock-down doesn't prevent delivery, and we got some more endotracheal tubes plus a rig-up for safe storage of the tubes. We did some work on the clinic and upgraded our shelving and storage box systems, purchased a stock of essential meds for the upcoming season and two 25 lb sacks each of toucan low-iron pellets and parrot pellets (which we use to make the baby formula). All in all a lovely haul!!"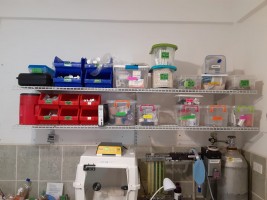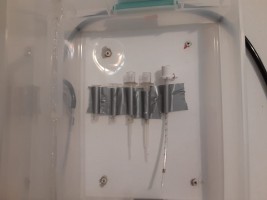 New storage of equipment; cabinet for endotracheal tubes
Good to see PSUK conservation funding put to good use!