ENDANGERED YELLOW-EARED PARROTS
PROTECTED BY GUERRILLAS
By Frank Bajak, Associated Press, Colombia
(As printed in the PSUK. Magazine Vol 34 Feb., 2000)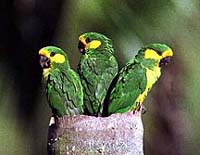 Three yellow-eared parrots
Three yellow-eared parrots swoop down into a glade of wax palms, switching from wide arcs to tightly synchronized barrel rolls, screaming raucously.
A sight to behold in a breathtaking alpine setting. But a vision that may be fleeting.
This parrot, Ognorhynchus icterotis, thrived in the cloud forests of the northern Andes a century ago. Now it is among the world's most critically endangered species. Fewer than 75 are known to exist.
Ironically, this bird has become a beneficiary of Colombia's civil conflict. Its habitat is deep in rebel-dominated territory, and the guerrillas have banned hunting wildlife to preserve Colombia's rich biological diversity.
On a waning Sunday afternoon, the bright green-and-yellow parrots alight on the conical rim of a dead palm and clamber down to a nest, where the female regurgitates lunch to two loudly chattering chicks.
The mating couple, their young helper and the chicks are among 61 yellow-eared parrots whose discovery in mid-April was ecstasy for bird conservationists.
"Its wonderful that they have survived. Now there's a real chance of saving the species," said Niels Krabbe, a Danish Ornithologist. His sighting of 17 yellow-eared parrots in neighbouring Ecuador five years ago was the first scientifically recorded observation in nearly 80 years.
Among nations, Colombia is the second richest after Brazil in biological diversity. It has the world's greatest variety of birds, with 1,850 species, as well as 358 kinds of mammals and more than 45,000 types of plants.
Yet the varied ecosystems of its Andean ridges and valleys are in grave danger due mainly to deforestation. Scientists say the risk of mass extinction has never been greater.
"Parrots need fruit, canopy trees and hardwoods," said Paul Salaman, an Oxford University Ornithologist directing efforts to keep Ognorhynchus icterotis alive. They're a sensitive barometer of threats to the environment because they often suffer first."
Over the past century and half, 80 per cent of woodlands on the slopes and valleys of the three-spined Colombian Andes disappeared as settlers cleared land for farming and cattle ranching, said Luis Miguel Renjifo, Conservation Director for the government-affiliated, Alexander Von Humboldt Institute.
The shrinking habitat of the yellow-eared parrot, one of 80 birds native to Colombia in danger of global extinction, is a case in point.
Bernabe Lopez, an Argentine Ornithologist, spends his days observing the birds from a blind built of dead palm fronds among grazing cattle.
This particular parrot appears to nest only in wax palms and eats the tree's thumb-sized fruit "like we would a coconut" he said. Yet the majestic palm - Colombia's national tree - is its self in danger of extinction, with just a few thousand acres of groves remaining.
All are in the central Cordillera, and most can be seen from the palm-studded pasture at 8,200 feet where Lopez sits, denuded hills and rushing rivers below, oak and ficus forest and wind-swept paramo above.
Cutting down wax palms was prohibited by law in 1986, but cattle eat their seedings as well as surrounding vegetation that provides shade the young plants require.
Preserving the yellow-eared parrot in captivity is not an option, Krabbe said. Although, millions of people worldwide keep parrots as pets, there is just one known case of a yellow-eared parrot surviving outside the wild, he said.
That fact might not deter poachers, however, which is why the ornithologists trying to protect this species - and raise money to buy its roosting site - asked that the location be kept secret.
Global trade in parrots has taken many species to the verge of extinction.
Alberto Gomex, a Colombian expert on illegal trafficking in plants and animals, said that from 1992 to 1996 nearly half the 1540 birds confiscated from people trying to smuggle them out of Colombia were parrots - most of them ENDANGERED SPECIES.
However, another long time threat, from hunting by peasants, struggling to feed their families, has waned in this area, thanks to the rebel prohibition on killing wildlife.
Fearing punishment, inhabitants strictly heed the ban. They don't even shoot the pesky and abundant bronze-winged parrot, which regularly plunders their corn patches.
"I've only heard three shotgun blasts in the month I've been watching the nest", Lopez said, grinning contently.
For Further Information Visit www.proaves.org
Alternative Common Names for the Yellow-eared Parrot
YELLOW-EARED CONURE OR YELLOW-EARED PARAKEET
AKJ 2018 - One of many such fascinating articles that are published in our monthly magazine, and posted out to every member on receipt of a modest annual subscription.
Donations
Any persons wishing to make a financial contribution towards the Conservation Fund may do so online at Donate to The PSUK Conservation Fund or in the form of a crossed cheque or International Bank Draft in Pounds Sterling made payable to The Parrot Society UK, and post to :-
CONSERVATION FUND,
THE PARROT SOCIETY
UK Audley House
Northbridge Road
Berkhamsted
Hertfordshire
UK HP4 1EH
Telephone/Facsimile No.: (44) (0) 1442 872245
We will be pleased to receive further articles and information of interest to add to our Web Site or for publication in our Magazine. Please forward by post or by E-Mail to The Parrot Society UK for the attention of The Webmaster. We review all submitted articles and the society reserve the right not to publish articles at their discretion. Their decision is final in all these matters and no further correspondence will be entered into.
Articles marked with the copyright symbol© beside the author`s name are copyright© the author. In these cases, copyright remains with the author/authors and the information cannot be reproduced without the additional permission of the said author/authors.