The Parrot Society UK has had a long association with Beale Wildlife Park, near Pangbourne, in Berkshire, England.
Now retired curator Dave Coles, and current incumbent Andy Nicholls have many long-term friends within the PSUK, and this has led to some fruitful exchange of parrot species over the years. Andy Nicholls also has strong links with David Woolcock, of Paradise Park, Cornwall, and the World Parrot Trust. The Society holds an annual 'Members Day Out' at the Park, when PS members and their families gain free entry, and gather to socialise in the Education Centre (see Beale Wildlife Park)
In recent years, several new all-metal aviaries have been constructed, replacing older, crumbling wooden versions. These have proved very successful, and having a modular format, may be modified or extended in the future.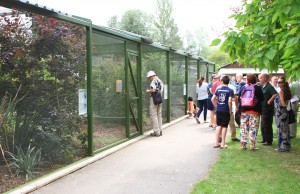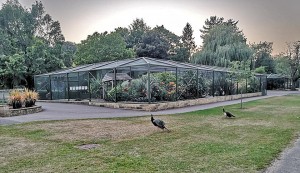 New metal aviaries at Beale Wildlife Park 2019; second photo by Amanda Swift-Ellis
The need to replace several more wooden aviaries - some close to twenty years old - plus an urgent request from David Woolcock to help house some rescued macaws, led to an approach to the Parrot Society UK for funding assistance. Close to 200 captive macaws and been rescued by WPT from an ageing collector, and were being housed close by in Berkshire at what has become known as The Kiwa Parrot Project
Beale Wildlife Park had agreed to take on a group of some 20 Blue & Gold Macaws (Ara ararauna) for display in the park. Following initial discussions, and the need to replace a bank of old aviaries originally housing owls, this project has now expanded to a range of new aviaries for parrots, featuring not only the Blue & Gold Macaws, but also other parrots, grouped in themed areas according to their continental origins. These would include conservation breeding for listed species such as Sun Conures, Black-cheeked Lovebirds and Swift Parrots. Some of the latter have been donated by PSUK members.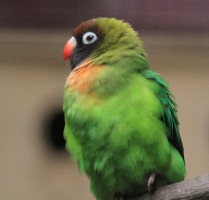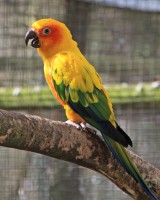 Black-cheeked Lovebird (taken at Birdworld); Sun Conure (taken at Tropical Bird Gardens, Desford)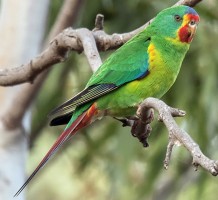 Blue & Gold Macaws; Swift Parrot (Parakeet)
At a an earlier Council meeting, trustees voted unanimously to pledge an initial £15,000 from our Conservation Fund to purchase materials to start the aviary build. At the Members Open Day at Beale on Sunday 9th August 2020, we were shown the area behind the old owl aviaries, that had been cleared in preparation for this work. Andy Nicholls has promised us regular updates and photographs of this exciting project. Watch this space!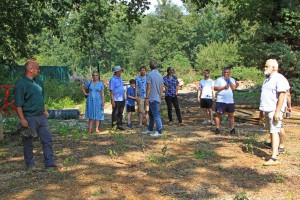 Andy Nicholls explaining the project to PSUK members in the area cleared for aviaries