African Grey parrots have been heavily trapped for many years for the pet trade, leading to collapses of wild populations. A recognition of falling populations led to this species (and its close relative the Timneh grey - Psittacus timneh) being upgraded to Appendix 1 of CITES. Fortunately, this action has significantly reduced the financial incentives for trapping. Their increased protection makes it far harder to export African grey parrots from countries like DRC. This doesn't mean that trapping has stopped entirely, as birds may still be smuggled out, but at least things are headed in the right direction. In any case, attempts to interrupt this illegal trade has led to the seizure of many hundreds of grey parrots, and the need to house them securely, while they are checked and ultimately rehabilitated. In early 2019, Rowan Martin, Director of the Africa Programme for the World Parrot Trust sent The Parrot Society UK a request for funding to support this work - "As part of WPT's focus on building capacity for managing parrots seized from trade and encouraging enforcement to dismantle trade networks, we are building on the success of a series of workshops delivered in Angola to deliver similar initiatives in Cameroon in late 2019/early 2020 (in partnership with ZSL); and a follow-up workshop in Angola to provide hands on training during the release of a group of seized Greys (September 2019) and other countries. (We have aspirations, but not currently concrete plans, to do something similar in Liberia and Sierra Leone - which are key countries for Timneh Parrots). Costs of these workshops vary by site but can range from £3.5k to £10k. Contributions to these workshops (covering travel costs of trainers, venue, expenses of participants) and also for the construction of both rehabilitation and release aviaries would be valuable". Trustees of the Parrot Society discussed these proposals in mid 2019, and agreed to support such a project in the Eastern Democratic Republic of Congo (E DRC). Accordingly, an initial payment from our conservation fund of £1,500 was made in November 2019.
Rowan Martin sends us this progress report in October 2020:-
"Through the FlyFree programme the World Parrot Trust (parrots.org) takes a multifaceted approach to stop this illegal trapping of grey parrots, working with local partners to implement community projects, support better regulation, investigate illegal trade and ensure parrots seized from traffickers are given a second chance by being returned to the wild. The forests of the eastern DRC have been a major centre for trapping of African Grey parrots, but recent commitments by provincial governments and the ICCN (The Congolese Institute for the Conservation of Nature) have led to multiple seizures. Lwiro Primate Rehabilitation centre has received over a hundred parrots recently and together with advice and support from the World Parrot Trust has been rehabilitating the parrots ready for release. Plans to release these parrots early in 2020 were put on hold when restrictions on travel came into place to curb the spread of COVID-19. In addition, civil unrest in the region meant that plans had to be further adjusted and an alternative release site found.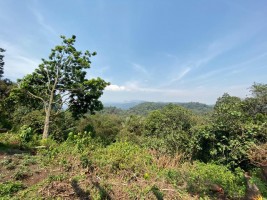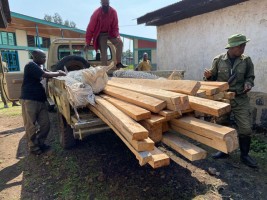 The conservation area; materials ready for construction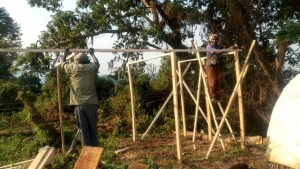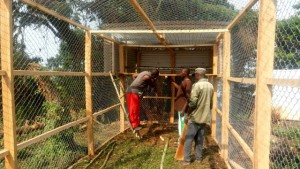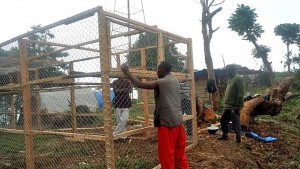 Aviaries under construction
Fortunately things are now moving ahead and construction has begun on a new soft release aviary in the Kahuzi-Biéga National Park in Sud Kivu Province. This has been made possible with vital funding provided by the Parrot Society UK. Once the aviary is completed the first group of Grey parrots ready for release will move in. Health checks on these parrots have already been conducted.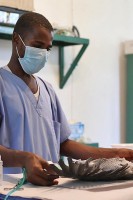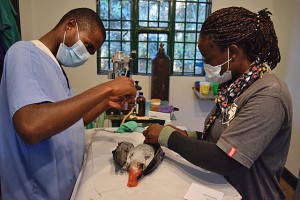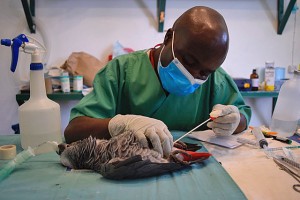 Veterinary checks being carried out on confiscated parrots
They'll then be given a few weeks to acclimatise to the new surroundings and be provided with food gathered from the surrounding forest before being released to the forest. A central part of the project is to build local capacity to ensure sustainability for the future. Over the past year, three Congolese vets and veterinary students (Dr.Ntay'olushamungu Matata Aristide, Ernest Kalaliz and Huguette Kamavu) have received training in avian medicine and husbandry. The World Parrot Trust would like to say a heart felt thank you to the Parrot Society UK for their support in making this important project possible."
Having received this information and update, the PSUK is happy to release a further £1,500 to continue with this work.
Rowan Martin sends a further update in May 2021 -