The Scarlet Macaw (Ara Macao) in Costa Rica
An Environmental Education Project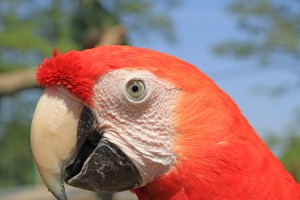 Scarlet Macaw photographed at Desford Bird Garden, Leicestershire (AKJ)
This project has been part-funded from the PSUK Conservation Fund for several years now, with regular reports received from Dr Chris Vaughan published in our magazines. Money has been used to help publish colouring books illustrating these birds for local school children, as well as the construction of nest boxes and the installation of nest-box cameras.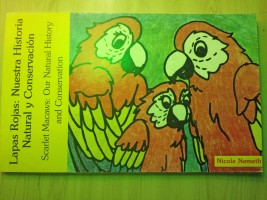 Colouring book produced for schoolchildren to stimulate interest in the project (Photo: Dr Chris Vaughan)
Dr Vaughan reported in our magazine of July 2017 that "Scarlet Macaw numbers are in danger due to poaching for the pet trade and destruction of habitat. These huge, colourful birds require large, old trees to build their nests in. Their nesting trees have become quite scarce as development increases. Their reproduction cycle is fairly lengthy and includes - nest searching (Sept/Oct), egg-laying and incubation (Dec-Feb), chick-rearing and fledging (Jan-June). During this time the chicks are very vulnerable to poaching."
Nest-box cameras provide live streaming 24/7 to a website allowing public access to some very interesting real-time data during the birds' nesting cycle. Since this project commenced in the 1990s it has become one of those 'model' projects combining teaching, research and outreach. It is believed that what people learn 'live' about the nesting cycle of this endangered species using modern technology will ensure this species' conservation, and the coexistence of humans and wildlife. The team includes two former Scarlet Macaw poachers who climb trees to place cameras in nests and artificial nest boxes which they designed and built, and will visit schools to talk about this parrot. Local environmental education programmes involve some 80 school children studying the nesting ecology in four nests on school screens, with parents at home and/or on their smartphones, and writing down observations to discuss in classes.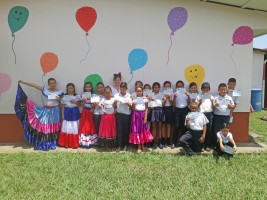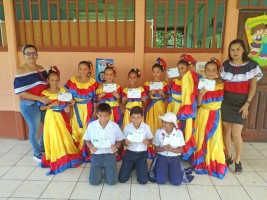 Local schoolchildren proudly displaying their diplomas (Photo: Dr Chris Vaughan)
Dr Chris Vaughan updates us on 26 July 2018, with photographs of local school children receiving diplomas for completing the Scarlet Macaw course, as well as links to nest-box cameras, and a request for further funding for more nest boxes for the 2018/19 season. The school children will be involved in mourning the nest boxes and monitoring the sites.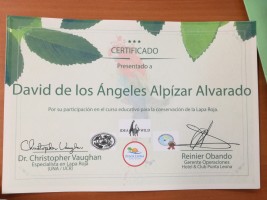 Close-up of sample diploma awarded for completing the Scarlet Macaw awareness course (Photo: Dr Chris Vaughan)
Dr Chris Vaughan adds on 7th August 2018: "Your most recent donation was used to part fund the purchase of this computer server, which is now installed in Punta Leona, where the nest boxes and cameras are. Previously we had to send the signal to San Jose, which mad everything more indirect.The final chick has left the nest and I don't expect new nesting activity to pick up until October ... so we can get ready for an exciting nest season in 2019 with cameras, nests and excellent internet service!"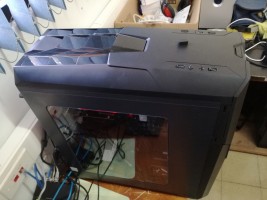 The project's new computer server
A big thank you to Exotic Direct Pet Insurance for helping us to sponsor this project - Parrot Insurance
To sign up to our news letter please enter your email address in the box below