The Scarlet Macaw (Ara Macao) in Costa Rica
An Environmental Education Project


Scarlet Macaw in flight (PSUK stock image)
This project has been part-funded from the PSUK Conservation Fund for several years now, with regular reports received from Dr Chris Vaughan published in our magazines. Money has been used to help publish colouring books illustrating these birds for local school children, as well as the construction of nest boxes and the installation of nest-box cameras.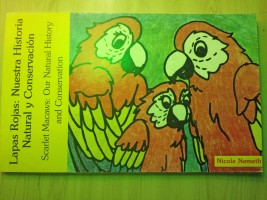 Colouring book produced for schoolchildren to stimulate interest in the project (Photo: Dr Chris Vaughan)
Dr Vaughan reported in our magazine of July 2017 that "Scarlet Macaw numbers are in danger due to poaching for the pet trade and destruction of habitat. These huge, colourful birds require large, old trees to build their nests in. Their nesting trees have become quite scarce as development increases. Their reproduction cycle is fairly lengthy and includes - nest searching (Sept/Oct), egg-laying and incubation (Dec-Feb), chick-rearing and fledging (Jan-June). During this time the chicks are very vulnerable to poaching."
Nest-box cameras provide live streaming 24/7 to a website allowing public access to some very interesting real-time data during the birds' nesting cycle. Since this project commenced in the 1990s it has become one of those 'model' projects combining teaching, research and outreach. It is believed that what people learn 'live' about the nesting cycle of this endangered species using modern technology will ensure this species' conservation, and the coexistence of humans and wildlife. The team includes two former Scarlet Macaw poachers who climb trees to place cameras in nests and artificial nest boxes which they designed and built, and will visit schools to talk about this parrot. Local environmental education programmes involve some 80 school children studying the nesting ecology in four nests on school screens, with parents at home and/or on their smartphones, and writing down observations to discuss in classes.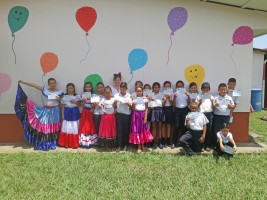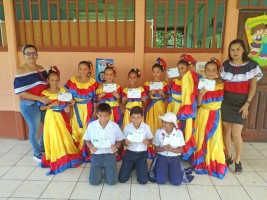 Local schoolchildren proudly displaying their diplomas (Photo: Dr Chris Vaughan)
Dr Chris Vaughan updates us on 26 July 2018, with photographs of local school children receiving diplomas for completing the Scarlet Macaw course, as well as links to nest-box cameras, and a request for further funding for more nest boxes for the 2018/19 season. The school children will be involved in mourning the nest boxes and monitoring the sites.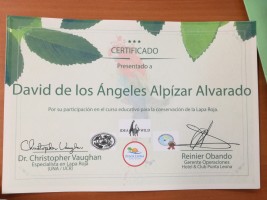 Close-up of sample diploma awarded for completing the Scarlet Macaw awareness course (Photo: Dr Chris Vaughan)
Dr Chris Vaughan adds on 7th August 2018: "Your most recent donation was used to part fund the purchase of this computer server, which is now installed in Punta Leona, where the nest boxes and cameras are. Previously we had to send the signal to San Jose, which mad everything more indirect.The final chick has left the nest and I don't expect new nesting activity to pick up until October ... so we can get ready for an exciting nest season in 2019 with cameras, nests and excellent internet service!"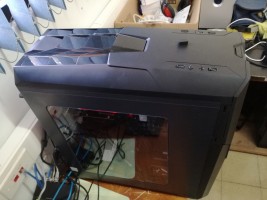 The project's new computer server
Dr Chris Vaughan's latest update in September 2019 gives the following news-
"I returned from the field and working with scarlet macaws and local human communities two days ago and will include some pictures. The trip involved three themes: a) a presentation on September 10 of 20 rural high students from 5 rural high schools of scarlet macaw counts they made last month; b) on September 11 observing over 50 scarlet macaws in Punta Leona preparing for the reproductive season; and c) on September 11 working with the expoachers who build and place artificial nests and the internet technician on the cameras and checking several artificial and natural nests.
Rural High School Presentation. The high schools are from a region buffer to La Cangreja National Park (several kilometers east of Carara National Park, Carara being the area where the scarlet macaws and our research/management had concentrated since 1990. But with the counts, I am excited to report that the scarlet macaws have started to recolonize the Cangreja area and the students have taken the responsibility to learn about them and protect them. I was in this area several months ago with Humberto Solorzano, a retired teacher who gave our scarlet macaw course for 20 years, giving out coloring books and explaining course methodology to rural school teachers/directors. So with the highschools students, I feel we are covering grade and highschoolers. To my knowledge, it is the first time in Costa Rica and perhaps Latin America that an endangered species is understood and protected in this way. In several weeks, I will visit the high schools with the park guard who began the counts and teach them simple methodologies to gather data on diet, nests, historic and recent distribution, reproduction, and if the scarlet macaws are living year round in the region (subpopulation). I think having these young conservationists involved studying and protecting their scarlet macaw is exciting. We will also give them coloring books because although they are for elementary school children, there is a lot of important information. And finally a diploma in recognition of their work. I have attached several photos of the September 10 event.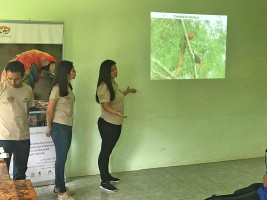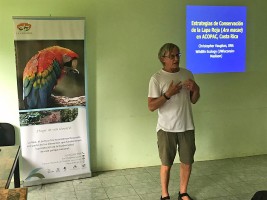 Presentation about the Scarlet Macaw project (Photos: Dr Chris Vaughan)
Nests, Cameras, Reproduction. Several cameras aren't giving signals and we are exploring why before nesting season begins in November. We may change cameras, cables, splitters, camera position, etc. One of our most long-term natural nest has filled with water which we need to fix if possible. Also observed scarlet macaws playing and getting ready for reproduction.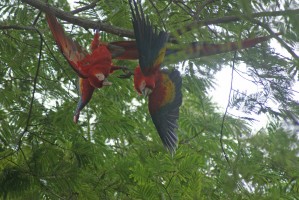 Scarlet Macaws displaying (Photo: Dr Chris Vaughan)
Again I thank The Parrot Society-UK. The scarlet macaw population is increasing and spreading out. We must work on stopping poaching; in their talk, one highschool student angrily told the public that a man showed up near their farm asking to buy wild scarlet macaw chicks and the family angrily sent him on his way. We need that throughout the region. Environmental education is a major step. Little by little."
Dr Chris Vaughan provides a further update in February 2020:-
In August 2019, I returned from my first trip, this year, into a region east of the Carara National Park where we have been studying scarlet macaws for almost three decades. The scarlet macaws had been eliminated in the east but since about 2005 (we are documenting with locals), have been recolonizing, due I think to our in-situ management (habitat, macaw population and humans) efforts. The area we visited was inside and around the La Cangreja National Park; scarlet macaws are being seen there from 500-1000 meters elevation. All the pictures I am sending are from schools we visited, except the scarlet macaws in an artificial nest.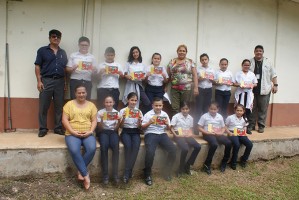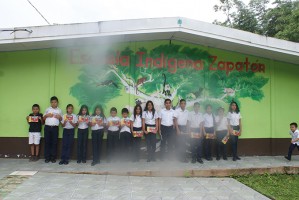 More school groups with their colouring books (Photo: Dr Chris Vaughan)
Both national parks now have the scarlet macaw as their symbol. High-school students have been making August counts over the last two years, thanks to the efforts of my colleague, Leonel Delgado, a very active national parks guard, who accompanied us. Humberto Solorzano, the retired CR rural grade school teacher formed the third of our trio. Humberto gave the course between 1995-2017 at the lowland Quebrada Ganado Elementary School and was co-author in an environmental education article in English. Humberto explained the course methodology to the teachers and we gave colouring books to students in all the schools; teachers and students say they frequently observe scarlet macaws. Punta Leona, who had helped fund the scarlet macaw project since 1995, has reduced their aid due to the financial crisis, especially for colouring books, the website, cameras and artificial nest boxes (built and placed by my ex-poacher friend). Therefore, I am turning to The Parrot Society-UK to request more assistance. (Editor's Note. The Parrot Society UK provided the $2,500 requested and the scarlet macaw project continues to flourish. US$2,500 would be spent for the following items:
Scarlet Macaw Colouring Books. We need to continue to provide colouring books to school children because as the scarlet macaw extends its distribution, we want to cover the schools where it is now found. We have visited and provided colouring books ($3/book) to over 300 students in 18 schools, but now need to extend to 7-8 more schools, as well as provide colouring books to the new fourth graders. We give books to fourth grade teachers/students in larger schools, 4-6th grade teachers in smaller schools and even all grades in schools with only one teacher and 6-7 students so they won't feel left out. We visited several indigenous grade schools, inside an indigenous reserve, (Zapaton) next to La Cangreja National Park. Punta Leona has said they will include the 4 schools they have covered since 1996, but no more.
Artificial Nests. There are 9 artificial nests in Punta Leona, scarlet macaws have visited all of them and nested in at least four of them. I am sure the number will increase in 2020 as several were placed in 2019. However, I am interested in continuing to provide local communities, especially schools, as well as the two national parks (Carara and La Cangreja) with artificial nests so they can protect, observe and feel proud of them. Their cost is approximately $180/nest and its placement. They are built and placed by the most famous scarlet macaw poacher in the area and it allows him an alternative income source.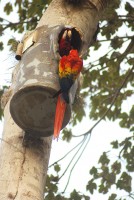 Pair of Scarlet macaws at an artificial nest box (photo: Dr Chris Vaughan)
Scarlet Macaw Web site and Live Cam of Reproductive Season. Between 2015-2018, with your help, we have worked to construct a scarlet macaw website and livecam for the scarlet macaws nesting in Punta Leona (Scarlet macaw nest cams). We have included videos constructed around the 2016, 2017 nesting seasons (reproduction, nest competition, predation, nest and camera placement) and in 2017 had over 12,000 hits from 52 countries. Also several grade schools in the region, including the Quebrada Ganado Elementary School with Humberto Solorzano in charge, give courses around the January-July nesting seasons or using videos when it wasn't possible. However, the website and live cam have not kept up with our needs, and the computer engineer decided he couldn't continue in 2018, I think largely because we couldn't pay him. With approximately $100/month, he will return to and greatly improve the web site and live cam, which I believe would be used by many of the several thousand grade schools/high schools in Costa Rica with internet, including those with scarlet macaws in our Central Pacific and the Osa Peninsula. We will need funds to purchase and improve the camera system in Punta Leona. They will provide the security, internet and electricity.
I believe that with the $2,500 I am requesting, we can move ahead. I am requesting $1,500 from another funding source. Also it is important that you realize that scarlet macaw poaching has begun again in our region and over 20 scarlet macaw nests were taken from Guacalillo Mangrove Reserve and the 20-30 chicks sold (we don't know to whom). We are working with this with the CR Wildlife Office and local park guards, but feel that the local community will always be one of the major forces to stop this terrible threat on the scarlet macaw community. Environmental education is one of our only tools.
A big thank you to Exotic Direct Pet Insurance for helping us to sponsor this project - Parrot Insurance
Dr Vaughan's latest update in January 2021 is as follows:
Our rural school environmental education program has been on hold because Costa Rican schools are closed. We have many coloring books, but are looking for ways to get them in teachers/students hands. Also some teachers receive the link to our video cameras in nests.
So most work has focused on 12 artificial nests in Punta Leona and 5 video cameras. Most nests are occupied by scarlet macaws, but we are unsure if they will all nest successfully. At least wildlife seems to be alright with Covid, except where local hunters without work have invaded wildlands for game.
I am sending you the link to our active cameras in 4 nests. Three have eggs and I have approximate dates they were laid. In the Ceiba#1, a chick should hatch in late January. Hope to have the fifth camera functioning by January 22 (soon after Trump leaves office!!). The link should work it is on 24/7, but has occasional problems. http://186.176.227.5:8080/