Beale Wildlife Park & Gardens
Pangbourne, Berkshire RG8 9NW
Signposted from junction 12 of the M4
This country park, situated close to the River Thames, features extensive grounds with a variety of animals, from parkland cattle and deer, through meerkats and prairie dogs, to marmosets and lemurs, with many bird species also represented. There is a large lake with koi carp and an attractive Japanese garden, and a fascinating museum filled with hundreds of model boats and planes. An enormous play area with paddling pool will keep the children occupied, or you can take a ride around the park on the popular narrow-gauge railway.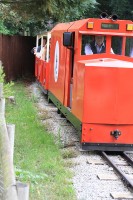 Fun train ride for all the family around the park
Last year's event went ahead on Sunday 9th August 2020. Owing to the coronavirus restrictions, some indoor attractions were closed, but PSUK members still gained FREE entry, and managed to gather (with some degree of social distancing) at the education centre. It was good to see Mike Curzon, a long-time friend of the PSUK since his days at Rode Bird Gardens. There will be no event in 2021, owing to ongoing Covid restrictions.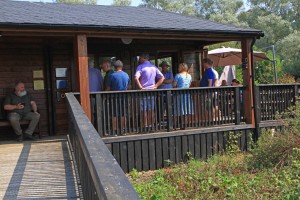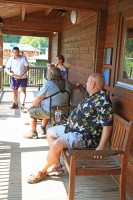 Members at the Education Centre; Some colourful parrot-themed shirts and dresses were worn!
The weather was too hot to see much of the birds, but we were treated to a behind-the-scenes look at the site of several new parrot aviaries, partially funded by the Parrot Society UK Conservation Fund. Curator Andy Nicholls and BWP trustee David Carr (son-in-law of Richard Howard) showed us the area behind the old owl aviaries, and described the 'giant Meccano' box-steel construction of several flights, to theme different continental groups, and to house several endangered species for conservation breeding. Sad to report that due to major changes at Beale Wildlife Park, Andy Nicholls has now left, and is no longer curator at the site. See also Conservation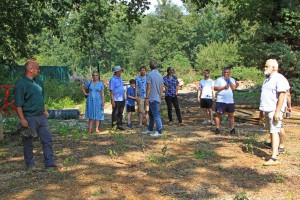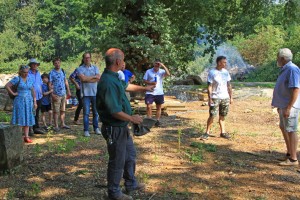 Andy Nicholls explaining the project to trustees and members; David Carr in grey top & jeans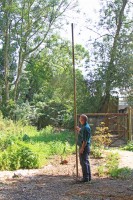 Andrew Nicholls demonstrating the minimum height of the new aviaries