Beale Wildlife Park & Gardens
Pangbourne, Berkshire RG8 9NH
Signposted from junction 12 of the M4
This country park, situated close to the River Thames, features extensive grounds with a variety of animals, from parkland cattle and deer, through meerkats and prairie dogs, to marmosets and lemurs, with many bird species also represented. There is a large lake with koi carp and an attractive Japanese garden, and a fascinating museum filled with hundreds of model boats and planes. An enormous play area with paddling pool will keep the children occupied, or you can take a ride around the park on the popular narrow-gauge railway.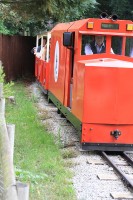 Fun train ride for all the family around the park
The 2018 Members' Away Day on proved to be hot and sunny, and we were joined by colleagues from The Avicultural Society and the International Turaco Society in the new education building, with plenty of refreshment provided by PSUK trustees!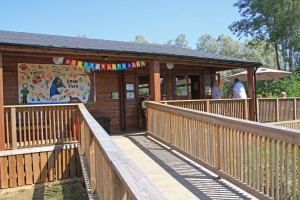 The group enjoying the facilities of the education centre
The highlight of the day was the official opening and dedication of a new large aviary that had been constructed during the spring and summer by Andrew Nicholls and his team. This aviary is dedicated to Richard Howard, the former Chairman of the Trustees of Beale Park, and was declared open by his daughter, Susie Carr -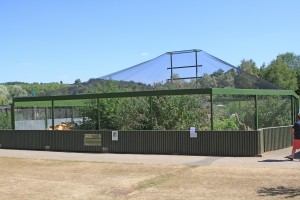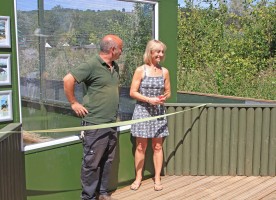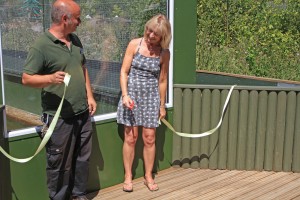 The Richard Howard aviary; Andrew Nicholls and Susie Carr cutting the ribbon to officially declare its opening
The occasion was also used to mark the retirement of outgoing curator of mammals and birds, Dave Coles, and to thank him for his many years of assistance and friendship with various avicultural groups. He was presented with a card and original painting of a Grey-breasted Parakeet by PSUK secretary Les Rance, and the Ezra Award by the Avicultural Society Chairman.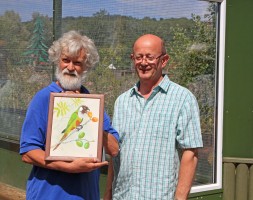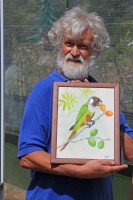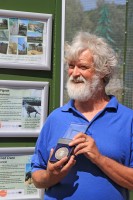 Dave Coles with Les Rance; his painting; with Ezra Award
This year's event at this excellent venue, will be held on Sunday 4th August 2019.
To sign up to our news letter please enter your email address in the box below