Paradise Park
Wildlife Sanctuary, Cornwall
Home of the World Parrot Trust, this unique collection of parrots and other birds is set in a temperate garden near Hayle, in Cornwall. Many endangered parrot species are displayed and bred here, and visitors can get some great photo opportunities and watch some fascinating flying displays. The adjacent Jungle Barn provides an enormous play area to keep active children amused, and the Park has its own cafe and gift shop, while the family owned pub/restaurant the 'Bird in Hand' at the entrance to the site supplies some excellent food and drink.
Our first open-day event at this impressive venue on 23rd September 2018 proved very popular for members in the south-west, and some 14 individuals made the effort. After a wet start, the sun came out and visitors were treated to some great birds and small mammals. PSUK members were given a special 'behind-the-scenes' guided tour, which included views of the two Palm Cockatoo chicks bred this year. A real privilege indeed! This year's visit will be on Sunday 19th May 2019, at the beginning of their flying season.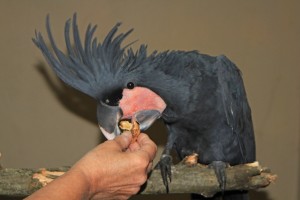 Black Palm Cockatoo chick 'Herbert' bred at Paradise Park 9th August 2017 (AKJ)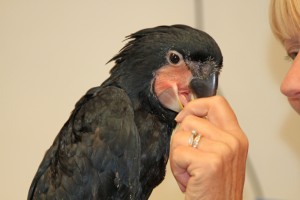 'Norbert' just 2.5 months old, bred this year at Paradise Park (AKJ)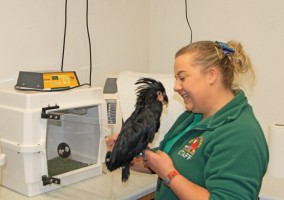 'Norbert' with keeper Sarah-Jayne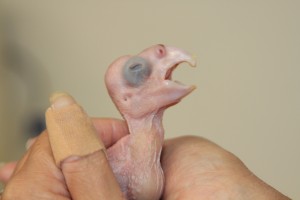 As yet un-named Black Palm Cockatoo chick just 16 days old on 23rd September 2018!
To sign up to our news letter please enter your email address in the box below