Paradise Park
Wildlife Sanctuary, Cornwall
Home of the World Parrot Trust, this unique collection of parrots and other birds is set in a temperate garden near Hayle, in Cornwall. Many endangered parrot species are displayed and bred here, and visitors can get some great photo opportunities and watch some fascinating flying displays. The adjacent Jungle Barn provides an enormous play area to keep active children amused, and the Park has its own cafe and gift shop, while the family owned pub/restaurant the 'Bird in Hand' at the entrance to the site supplies some excellent food and drink.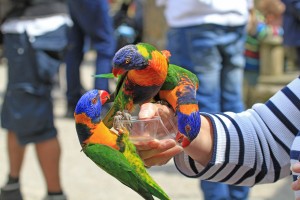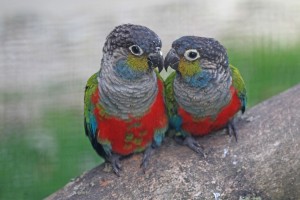 Feeding Rainbow Lories in the walk-through aviary - Crimson-bellied conures (parakeets)
Our second open-day event at this impressive venue on 19th May 2019 proved more popular than the previous year for members in the south-west, with some 24 individuals attending - an increase of 10 over the previous year. A pleasant spring day, with lots of young birds of various species, and two impressive flying displays, featuring birds of prey, kookaburras, coughs, and plenty of parrots! PSUK members were once again given a special 'behind-the-scenes' guided tour, which included views of the new 'Tropics' houses, among many other attractions. Our visits scheduled for 2020 and 2021 were cancelled owing to the coronavirus pandemic, and have not been reinstated. However, a special discount for PSUK members is available for this season - see above.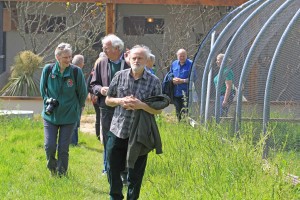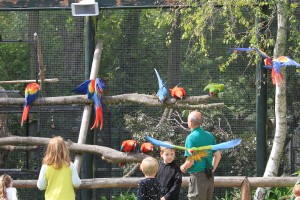 PSUK visitors behind the scenes, guided by Alison Hales - Free-flying macaws with enthralled children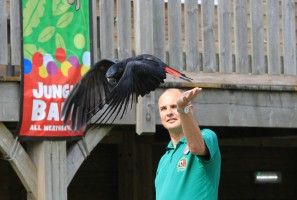 Red-tailed black cockatoo being flown by curator David Woolcock