Alan K Jones BVetMed MRCVS, PSUK Chairman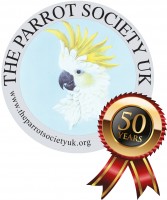 THE SPIX'S MACAW - THE AMAZING STORY OF THE WORLD'S RAREST BIRD
Well on into the afternoon now, but with no sign of flagging enthusiasm from our delegates – and little wonder, as next to take the podium was well-known parrot keeper and conservationist Tony Pittman. Tony had served actively on the PSUK Council for many years, with a particular involvement in our Conservation projects. With a special interest in the Blue Macaws, he had in 1998 set up the website www.bluemacaws.org, which remains a definitive and fascinating source of information for researchers and aviculturists about this iconic group of parrots. His presentation focused on the rarest of the group – the critically endangered Spix's Macaw (Cyanopsitta spixii).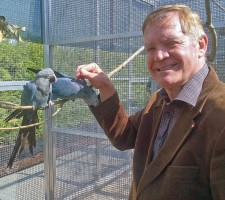 Tony Pittman with young Spix's Macaws at ACTP
The species was first described as long ago as 1638, but was brought to greater attention by Johann Baptist von Spix, who lived from 1781-1826. This German biologist led an expedition to Brazil in 1817-1820, principally to the dry north-eastern Caatinga area, where he collected and brought back some 500-600 animal specimens. These included a small blue-grey macaw, which he named initially Arara hyacinthinus. He died not many years later, possibly from a tropical disease contracted during this expedition. His assistant Johann Georg Wagler renamed the parrot Cittace spixii in 1832, in order to honour his mentor, and to differentiate the species from the much larger and different-coloured Hyacinthine Macaw. In 1854 it was placed in its own distinct genus, and renamed Cyanopsitta spixii, the title it retains to this day.
In the early 1900s Spix's Macaw was sighted only rarely in its native habitat, and Tony showed us several early paintings and photographs of the bird. In 1976, three specimens were known alive in the UK, two of which were soon passed on to the prestigious Walsrode Bird Park in Germany, and their remaining crippled companion joined them some years later. Tony showed a contemporary advertisement from Denmark in 1979, in which a pair of Spix's Macaws was offered for sale at 45,000 Danish kroner – worth about £27,000 today. There was known to be an active illegal trade in these birds throughout the 1970s, fuelled by the high price commanded because of their rarity value, and fed by Brazilian poachers.
Several wealthy collectors of Spix's Macaws emerged in the 1980s and 1990s. Dr Josef Hämmerli (a medical Doctor) acquired several from Brazil in the early part of this period, and bred five youngsters between 1984 and 1991. Antonio de Dios in the Philippines established Birds International Inc., and bred 39 young Spix's Macaws in captivity between 1982-1999. A young female from BII was exchanged with a young male from Dr Hämmerli, enabling the latter to continue breeding successfully with these birds in Switzerland. Other birds were in captivity in Sao Paulo Zoo, Brazil, and a few at Loro Parque, Tenerife. Most of Dr Hämmerli's Macaws were sold on to Roland Messer in 1999.
Meanwhile, a group from Munich Zoo photographed the last group of three Spix's Macaws known to exist in the wild in Brazil in 1986. A follow-up one year later revealed just two birds, but more were suspected to be present somewhere as macaws were still being offered for sale on the black market by poachers. In 1987, Loro Parque in Tenerife curated the formation of a Spix's Macaw recovery group, but several involved parties refused to attend. However, it was agreed at this meeting that all remaining Spix's Macaws in captivity should be submitted to endoscopic examination within six months; that a report on their condition should be submitted to a studbook keeper; that all individuals should have a leg ring bearing a studbook number; that a consortium of accepted keepers be set up; and that all were to sign a contract agreeing to the goals and measures of captive breeding. Conflict between Messer, Loro Parque and de Dios led to this group being dissolved in 2002.
In 1991, Tony visited 'Pele and Pic-pic' in captivity in Brazil (see above) while in 1995 the last known surviving male Spix's Macaw in the wild was observed on many occasions paired up with a wild Illiger's Macaw, and they became known as 'The Odd Couple'. Attempts were made to reintroduce by soft-release an originally wild-caught female Spix's Macaw back to him, but she disappeared and the attempt failed.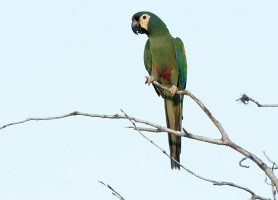 Illiger's or Blue-winged Macaw (Ara maracana) - photo by Les Waring
Coming forward again to 2004, Tony described how the Spix's Macaw conservation group was re-formed in 2004, with a new title, and this time including the Al-Wabra Wildlife Preservation (AWWP) group in Qatar. A large collection of birds and animals inherited from his father in 1999 by Sheikh Saoud bin Muhammed Al Thani had since evolved into a well-funded and very large Conservation project. In the early years of the new millennium, AWWP acquired four Spix's macaws from de Dios in the Philippines, and four from Roland Messer. Messer later transferred the remainder of his birds to AWWP, as did Birds International, following the severe outbreak of avian 'flu in eastern Asia. These birds currently are being bred successfully at Al-Wabra. The Sheikh has since died, but his family will continue the work.
The Swiss authorities granted permission in 2006 for three Spix's Macaws to be transferred to a state-of-the-art new parrot-breeding facility near Berlin, run by the Association for the Conservation of Threatened Parrots (ACTP). This group also keeps and breeds the endangered St Vincent's Amazon parrot. Both ACTP and AWWP continue to breed Spix's Macaws, and Tony reported 4 from the former and 17 from the latter to date in 2016. Between 2009 and 2010, in collaboration with the University of Giessen, techniques of artificial insemination (AI) were refined for use in parrots, and semen was collected from male macaws at Loro Parque, to widen the gene pool. (The technique would also help to control the spread of Avian Bornavirus, which unfortunately had been found in some birds - see also 50th Anniversary Seminar Part 4). AI was used successfully for the first time at AWWP in 2012, and two chicks were successfully reared by this method in 2013.
In 2008 the new Spix's Macaw Conservation Group purchased 2200 hectares of land in Bahia State, Brazil, and this was followed by purchase of adjacent land by the Lymington Foundation, run by Bill and Linda Wittkoff. This couple was well known for the successful breeding of Golden (Queen of Bavaria) Conures in captivity in Brazil, and for caring for the last surviving Spix's Macaw taken from the wild. Known as 'Presley', this unfortunate individual was discovered in Colorado, USA in 2002, but was ultimately repatriated to Brazil, and ended his days aged about 40 years in the care of the Wittkoffs, dying in 2014. He is believed to have been the inspiration for the two 'Rio' films, featuring a blue macaw's return to his native environment. [Linda herself sadly died earlier in 2017 – AKJ]
The Brazilian Government formulated a new, five-year recovery plan in 2012, with the stated aims of increasing the captive population to 150 individuals by 2020; to build a breeding facility in Brazil in the newly-acquired natural habitat area; and to restore more of its natural range and prepare for the species' re-release between 2017 and 2021. [At the end of Tony's presentation, Mark Stafford returned to the stage to add some up-to-date facts and figures about this project. He showed detailed plans of the proposed building complex and release aviaries, and confirmed that the Brazilian Government will commit funding and legislation to set up a 40,000 hectare protected area around the centre by 2018. Test release of Illiger's Macaws is planned for 2019 in that area. These birds are of a similar size and enjoy a similar habitat and diet to Spix's Macaws, so if they can survive and succeed in the region, there is a strong chance that Spix's Macaws could also. The aim then would be to release Spix's Macaws in the same way at the 200th anniversary of Johann Baptist von Spix's collection of these iconic birds in 2020. More birds would be released annually for the following five years.]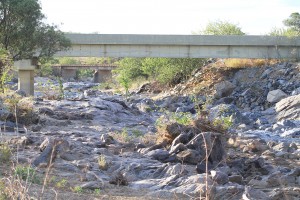 Dried up river bed in the arid Bahia state of north-eastern Brazil, typical Illiger's and Spix's Macaw habitat (AKJ)
Tony Pittman concluded his presentation by summarising the current population of Spix's Macaws in captivity at December 2015. There were believed to be 17 still in Switzerland, 12 at the new complex in Brazil (known as 'NEST'), moved from Sao Paulo Zoo and Loro Parque, and 12 at ACTP in Germany. The balance, giving a total of 100, is held at Al-Wabra.
This is a fascinating and prestigious conservation project, but at tremendous cost, with well over £1,000,000 having been spent to date. In May 2016, a Brazilian girl reportedly sighted a lone individual Spix's Macaw flying free in the wild, but to date that sighting has not been confirmed, and the bird has not been seen again. However, it does appear from Tony's story that it is encouragingly likely that free-flying Spix's Macaws may once again been seen in their native habitat inside the next decade!