The Red-Vented Cockatoo, (Cacatua haematuropygia)
One of the most threatened cockatoo species (C.I.T.E.S. Appendix One)
By Cliff Wright© The UK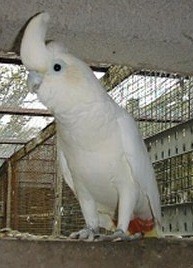 Red-Vented Cockatoo. Photograph supplied by Mr Cliff Wright©
This Cockatoo takes longer than any other one that I have ever had to reach breeding maturity at least seven years for a hen to lay her first egg, and six years of age for a cock to be able to fertilize them. Although they start mating at about four years old no eggs have ever been laid.
Spare adult hens are almost impossible to obtain, this is because people will insist on pairing a young hen to an adult cock bird (this is irresponsible on behalf of the keepers) as it is a known fact that once the cock birds reach breeding age they will attack their hen if she is not willing to nest and in some cases inflict mortal wounds on her.
Nest Box
The best type of Nest box I have found to use is an "L" shaped one or one divided in the centre with a 4" shelf piece so as to make it into two halves internally made from as thick a wood as can be obtained and lined in and out with wire otherwise they will destroy it. The Nest box must have an escape hole in it at all times at right angles to the entrance hole, with no perch on the outside, so that should the cock start to drive the hen she can at least enter the box and if he follows her she can get away from him by using the escape hole. Eggs are laid with a three-day gap and the normal clutch is two to three eggs. Incubation that is 28 days, starts from the second egg. Once birds start to incubate (this is shared by both cock and hen) increase egg food, green food, and sprouted seed, as well as offering corn-on-the-cob, and dandelion leaves.
Once the chicks reach ten days of age check to see if they are large enough to take a size "U" stainless steel ring if so check every day to make sure the ring is still in place. I always enter our flights even when the birds are not nesting and open the inspection door so as they get used to me doing this (more times as the breeding season approaches than say winter time). I have only ever had to hand rear one youngster in the 16 years that we have been breeding them. I have also found that if two or more pairs are kept in flights next to each other they seem to breed more easily.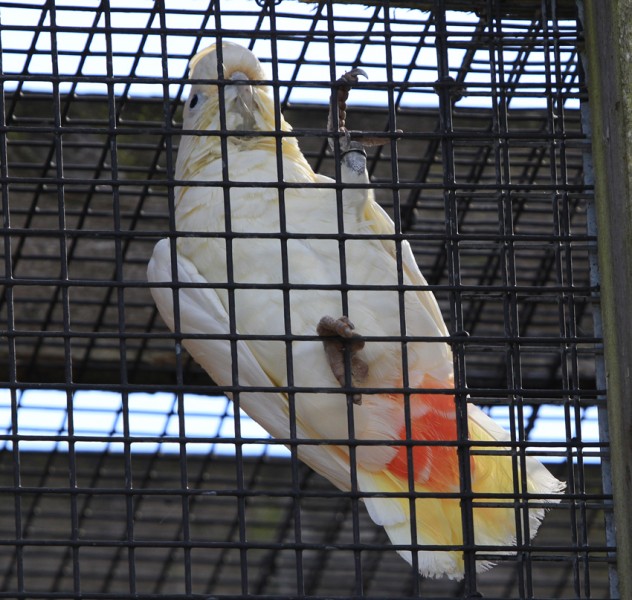 Red-vented Cockatoo photographed at Paradise Park, Cornwall (AKJ)
Distribution
The Philippine Islands of Palawan, plus Rasa Island that has now been declared a Wild Life Sanctuary are the last two remaining strongholds of this Cockatoo.
CRITICALLY ENDANGERED
It is the only Cockatoo to be listed in the Red Data Book of critically endangered species of Wild Life.
If one is fortunate enough to breed these Cockatoos they should never be offered as pet birds as they are critically endangered in the wild owing to deforestation and trapping as well as being shot for crop damage.
We will be pleased to receive further articles and information of interest to add to our Web Site or for publication in our Magazine.
Please forward by E-Mail to les.rance@theparrotsocietyuk.org or by post to:
Mr L A Rance
The Parrot Society UK.
Audley House, Northbridge Road
Berkhamsted,
Hertfordshire
HP4 1EH
Telephone 01442 872245
N.B. We review all submitted articles and the society reserve the right not to publish articles at their discretion. Their decision is final in all these matters and no further correspondence will be entered into.
Articles marked with the copyright symbol© beside the author`s name are copyright© the author. In these cases, copyright remains with the author/authors and the information cannot be reproduced without the additional permission of the said author/authors.