Since Covid restrictions hit, our specific Days Out at Tropical Birdland have been discontinued. However, the Parrot Society is negotiating reduced price entry for PSUK members to this amazing bird park. Watch this space for more details, and meanwhile look back at some of our previous excursions to see what the park has to offer!
With a variety of aviaries set in Leicestershire woodland, its main attraction is an open area where a large number of a wide variety of parrot species will allow up close and personal contact with members of the visiting public, and some remarkable photo opportunities. This went ahead on Sunday 20th September 2020, but with Covid-19 restrictions. Pre-booking was essential, and unfortunately no discounts to PSUK members were available. There was no event in 2021, owing to ongoing Covid restrictions.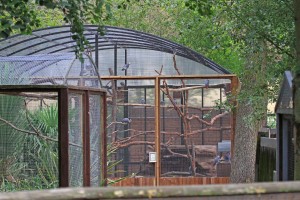 Our secretary Les Rance reports that the weather was good in 2020, and the arrangements that the owners had made to comply with Covid-19 precautions were working well. These included plenty of hand sanitiser facilities and also good hand-washing arrangements. Two new well-made large aviaries had been built, one for the stock of African and Timneh Grey parrots (above), and a second for a new Flamingo exhibit. There is a new aviary base under construction, time will tell what birds will go in there! The tame birds as always made a very striking display and all the birds seem to really enjoy their interaction with the public. Hopefully next year we will be able to have a more normal visit!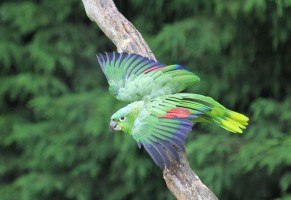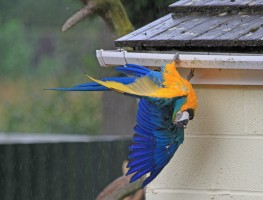 Mealy Amazon & Blue & Gold Macaw enjoying a downpour in 2019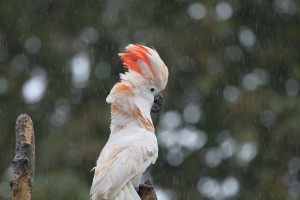 Moluccan cockatoo displaying in the rain
For further details, see Tropical Birdland