Presents a new feature at our shows -
A Competition with prizes for the best-dressed and stocked display aviary by a Bird Club
Following the success of the various groups of birds displayed at The National Exhibition at Stafford on 6th October 2019, The Parrot Society UK is introducing a new competition at each of its events at Stafford County Showground, commencing with our Help Bird Keepers Show taking place on Sunday 1st December.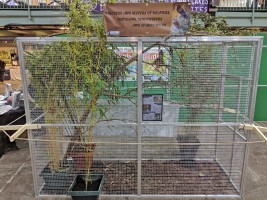 Open to one or two members of a Bird Club, Cage Bird Society group, Special Interest Group, Breeders Group, or Facebook Bird Group, we welcome you to come and participate, by displaying the birds associated with your chosen group. For our inaugural event we supply ten 8' x 4' x 6' , with 1" x 1/2" wire mesh, and an access door at one end. Longer term, it may be possible to supply other sizes to meet special requests, but several weeks' notice would be required, and we will need to see how this takes off first.
Competitors should decorate their aviaries to best display your chosen birds. You can for example use vegetation to reflect the wild environment from which these species originate, or perhaps a typical garden aviary in which such birds would be kept. Alternatively, for pet species, you may wish to decorate with toys and swings, or something unique pertaining to domesticated budgerigars and canaries. There could even be a Christmas theme at this coming event. The choice is yours, and imagination will be rewarded!
You must display a 3' x 1' or 4' x 1' banner advertising your club or group. We will have sticks and cable ties to help mount them if needed. Such vinyl banners may be ordered on-line for as little as £10, and can display photographs, plus your group's name and logo. Please see examples in the photographs. Please ensure that you check with your club, society, or Facebook group for permission to display this information.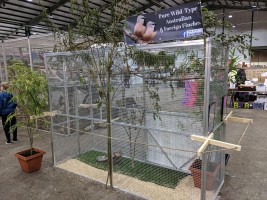 You should also display an A4 sheet of information on your group, describing who you are, with contact details, as well as some information on the birds you have displayed. We want participants only to display under a group banner rather than as individuals, as we do not see this as an individual show like the staged Exhibition birds.
We will provide a rope barrier to deter visitors from pressing too close to the wire, but depending on your configuration this may not be needed. Displays will need to be set up on the Saturday before the Sunday show - there will not be time on the day.
We appreciate that the displays could vary considerably between or December, July and October events, as some birds may not suit the cold or the heat at different times of year, and available vegetation will obviously vary. Give it a try and you will be in with a chance of winning one of three cash prizes from the PSUK, with the first prize being £200; plus the first ever winner's certificate for the 'Stafford Aviary Show' awarded by Cage & Aviary Birds.
To register your interest, please contact our primary organiser and PSUK trustee Mike Roxx at
mike-roxx@theparrotsocietyuk.org. Good luck!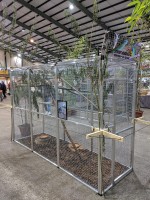 To sign up to our news letter please enter your email address in the box below