Our first new feature at our shows went very well -
The Stafford Aviary Competition with prizes for the best-dressed and stocked display aviary by a Bird Club
After a lot of hard work by the several people involved, notably PSUK Trustees Mike Roxx, Kevin Pickup and Hayley Baker, our first competition at our Help Bird Keepers Show on Sunday 1st December 2019 was a success. Owing to the coronavirus restrictions, there was no show in 2020, and just display aviaries in 2021. The Aviary Competition will return on Sunday 10th July 2022. The designer of the best aviary will win a fabulous £200 first prize, second will receive £100, and third £50, plus extra prizes. Sponsors for the event include Garden Feathers, Hari, and Sam1 Bird Products. To enter, just contact our office on 01442 872245, or email les.rance@theparrotsocietyuk.org, and an entry form can be posted or emailed to you. You can also contact trustee Mike Roxx for details (see Officers and Trustees)
There is no entry fee for the competition. We have ten aviaries, each 8' x 4' x 6'h, with 1" x 1/2" 16g wire mesh, and an access door at one end. These were built and donated by Rosemead Aviaries and Avi Fabrications. The competition is open to individuals, one or two members of a Bird Club, Cage Bird Society, Breeders Group, or Facebook Bird Group.
We welcome you to come and participate, by displaying the birds associated with your chosen group. Competitors should decorate their aviaries to best display the birds as attractively as possible. You can use vegetation to reflect the wild environment from which the species originates, or perhaps a typical garden aviary. For pet birds, you might like to use toys or swings, or something unique pertaining to Budgerigars or Canaries. The choice is yours and imagination will be rewarded!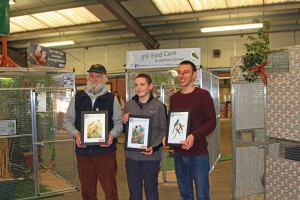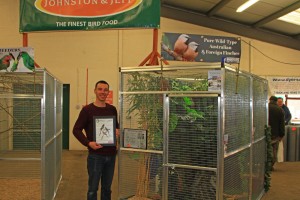 The winners in 2019 proudly display their certificates; John Hawkins with his aviary of Australian Finches
The winner in 2019 was John Hawkins, of Just for Parrots Birdcare & Advice Group, with his well-planted display of Australian Parrot Finches. Apart from his winner's certificate, supplied by Cage & Aviary Birds, he earned a cheque for £200 from the Parrot Society. Second place was taken by Rohan Pickup, with a cheque for £100 for his imaginative display of "Who let the Kaks out?", featuring Red-fronted Kakarikis with an open cage, wreaking havoc in a domestic environment! Third placed was Ron Jackson, winning £50 on behalf of the Stratford-upon-Avon CBS.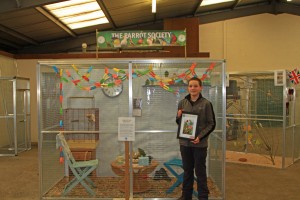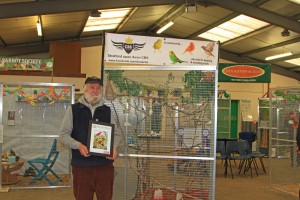 Rohan Pickup with his Kakarikis; Ron Jackson from Stratford CBS
This was an excellent start to an interesting added attraction to our shows. All visitors were given a voting token, which they could deposit in the collection boxes hanging on each display.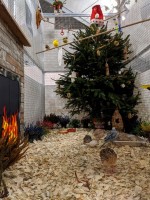 Kakarikis helping themselves; Christmas theme from Nuneaton CBS