CHAIRMAN
Alan Jones

Preferred contact by email:

Chairman's Page June 2019
Maybe I shouldn't speak to soon, but it seems that summer is well and truly on the way, with sunshine and blue skies, although the breeze is still a bit fresh. Wild and garden flowers are flourishing and chicks from garden birds are fledged and raiding the bird tables and hanging feeders. If you breed parrots, let's hope yours are doing just as well.
In mid-May my wife and I had a week's holiday in Cornwall, enabling us to cover the Parrot Society's Open Day at Paradise Park in Cornwall, with reduced entry prices for PSUK members. Some 24 members turned up to enjoy the privilege, admittedly most already living in the West Country. The day turned out pleasantly warm and sunny, and visitors were treated not only to the regular collection of rare and endangered species of birds, but these included several with newly hatched chicks. There were also excellent displays of free-flying birds of prey, choughs, and parrots during the course of the day. PSUK members were treated to an extra 'behind-the-scenes' tour, allowing us to view many off-exhibit birds, as well as the new (as yet unfinished) aviaries of The Tropics.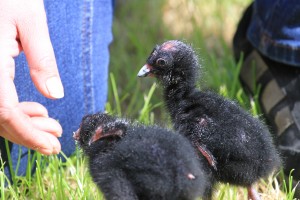 Recently hatched Purple Gallinule chicks at Paradise Park
Paradise Park is of course also the home of the World Parrot Trust, a charity involved in the raising of funds to support worldwide projects for parrot conservation. I have to say that the trustees and marketing staff at WPT are far more successful at persuading their visitors to part with their cash to support such conservation projects than we are at the Parrot Society!
Coming up we will have a stand at Think Parrots show at Kempton Park on Sunday 9th June, aimed at all keepers of pet parrots, with many interesting stands, and three talks by experienced lecturers on feather colour and quality, rehoming and reintroduction, and environmental enrichment.
This will be followed by our own Summer Show at the usual venue of Stafford County Showground. Book your entry wristbands or sale tables now! Then we will have our next Members' Day Out at Birdworld, in Farnham, Surrey, on Sunday 21st July. See the magazine or this website for further details on all these events.
Alan Jones 31 May 2019
To sign up to our news letter please enter your email address in the box below