CHAIRMAN
Alan Jones
BVetMed MRCVS



Buckinghamshire
Retired Avian Veterinarian
E-mail: Alan Jones
SECRETARY
Leslie Rance



Hertfordshire
(Non-Elected Member & Magazine Editor)
Tel: 01442 872245
E-Mail: Leslie Rance

Vice Chairman
Dave Dickason



Lincolnshire
Tel: 07545 347177
E-Mail: David Dickason

Mike Roxx



Northamptonshire
E-mail: Mike Roxx
Lee Clarke



Warwickshire
Tel: 07841 571905
E-mail: Lee Clarke
Hayley Baker



Glamorgan, South Wales
E-mail: Hayley Baker
Darren Walker


North Lincolnshire
E-mail: Darren Walker
Andy Clements


Essex
Tel: 07801 721498
E-mail: Andy Clements
At the 52nd AGM on Sunday 17th November 2019, long-serving member and officer David Coombes attended his last meeting as a Trustee of the PSUK. Chairman Alan Jones made the following comments, and presented him with an oil-painting of an African grey parrot, and an orchid for his supportive wife Jacqueline -
"As we know, having celebrated 50 years in 2016, The Parrot Society was founded in 1996. David Coombes joined very soon after, and he remembers that at his attendance at his local area meeting in Luton in 1973 he "didn't expect a novice with just two Bourke's Parakeets and a pair of cockatiels to be made so welcome". Founder of this Luton group was John Mollindinia, and he and David remained close friends until John's death in 2000. They travelled together to Australia, to meet Ray Ackroyd, and see first-hand his novel idea of 'tinning' trees to prevent predators such as lizards or snakes reaching cockatoo nest holes. This idea was one of the first conservation projects to be funded by the Parrot Society, and continues successfully to this day, and has been copied by other conservation groups.
Over the years, David's interests have grown to include other grass parakeets and African grey parrots, but he remains committed to breeding the nominate species, and does not go in for 'new-fangled' colour mutations! His dislike for anything new-fangled also extends to technology, with obvious reluctance to get involved with mobile phones and computers, but he accepts the need for progress amongst others.
Following the retirement of founder Norman Cooper in 1986, David took over as the Society's Secretary, magazine editor, and show organiser. This position he held until 2001, steering many developments in those 15 years, including a number of changes in magazine design; a variety of venues for PS shows, culminating in the excellent and current site of Stafford County Showground; and a move of office premises.
After Les Rance took over as Secretary and Editor in 2001, David continued (with considerable help from his son Paul) to be heavily involved with shows at Stafford, particularly with layout and overnight security. In 2011 he succeeded Colin O'Hara as Chairman of the Society, a position he held until 2014. Since that year he has continued to serve as a Council member, so his service to the Parrot Society UK represents a continuous run from 1986 until now – an impressive 33 years, while his membership of the Society covers an amazing 47 years! Throughout that time, he has had unstinting support from his family, especially his wife Jacqueline. Sadly, the years are catching up with both now, and David has decided it is time to stand down from official office in the Society. There is no doubt, however, that he will remain as actively involved as he can, for as long as he can. We look forward still to the input of his experience and wisdom in the future, and we acknowledge his tremendous contribution to and involvement with The Parrot Society UK over so many years with this painting of an African grey parrot, and some flowers for Jacqueline."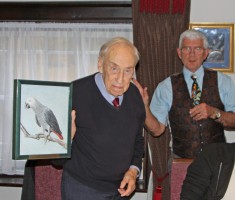 David Coombes with his painting, Chairman Alan Jones behind