The Pet Food Manufacturers' Association (PFMA) announced its long-awaited seminar, postponed from 2020 because of Covid, for Wednesday 21st September 2022. It turned out to be an efficiently organised, educational and enjoyable day held in the historic and comfortable setting of The Oakfield Centre, an imposing brick building in one corner of Chester Zoo. The venue was comfortable and well set out, and participants were well served with refreshments, including a light lunch, throughout the day.
PFMA organisers, Sarah Hormozi and Laura Waters, together with Chief Executive Michael Bellingham, had invited five speakers to discuss the topic of Parrot Nutrition, with the aim of promoting knowledge of this complex subject, and inviting discussion to encourage future dissemination of this information, as well as research into various aspects of the subject. Technical management of the event was exceptionally good, with a giant Samsung TV fed from laptop computers with pre-loaded speaker presentations, seamlessly flowing one after the other, with Laura sitting in quiet, unflappable control of the whole system.
Following registration, and the chance to meet other delegates over a welcome tea, coffee and pastries, the session got started with a welcome and short introduction from event Chair Sarah Hormozi. The first presenters were Mark Vercoe (Deputy Curator of Birds) and Lauren Samet (Animal Nutritionist) from Chester Zoo. Mark had previously spoken at our Pet Parrot Gathering at Stafford in July, and the pair gave an overview of the husbandry and feeding protocols of the parrot collection at the zoo. Current Parrot Society Chairman Alan Jones followed, with an overview of forty years working as an avian veterinarian, with a summary of the many disease conditions that can affect captive parrots, and how the vast majority of such diseases are the result of an imbalanced, deficient, or poor-quality diet. These were illustrated by some graphic cases seen in his time in avian veterinary practice.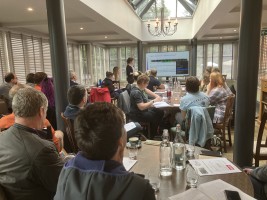 Vicki Baldrey giving her presentation to an attentive audience
The third session was presented by Vicki Baldrey, veterinarian and lecturer at the Royal Veterinary College, London, expanding on the theme of common problems and solutions in captive parrots, resulting from nutritional disease. Obesity is a major problem, with many owners of pet parrots feeding entirely inappropriate human foods to their birds, while various deficiency conditions that the previous speaker had mentioned were covered again, emphasising both their importance and their prevalence.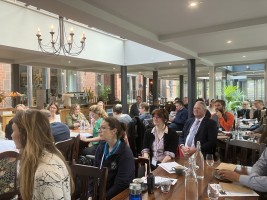 Delegates in the conservatory of the Oakfield Centre
The morning's session was followed by an excellent buffet lunch, giving delegates the opportunity to chat with friends old and new, as well as the speakers, and the two commercial sponsors of the event – Arcadia Bird Lighting and Petcover Pet Insurance Services.
After this refreshing break, information continued to flow, delivered by Dr Isabelle Kalmar, who had travelled from Belgium to be with us. She also is a qualified veterinarian, and works in Research & Development for Versele-Laga, a company well known to the Parrot Society. Her topic covered the huge range of parrot species in the world, with a wide variety of natural diets consumed, and various feeding techniques. She mentioned the challenges of providing appropriately balanced diets for all species, and the fact that most parrots will selectively feed – i.e., picking out items in the diet that they prefer, while leaving or discarding other – probably more nutritious – items. This fact was mentioned by most speakers during the day, as was the fact that they are neophobic – that is to say, reluctant to try new or different foods. Dr Kalmar went on to describe the production of various formulated and supplemented diets, and concluded with a mention of the difficulties of prepared parrot food being a niche market (comparatively small when compared to cat and dog foods), manufactured in a small number of production sites, but with worldwide distribution. This poses problems of variation in international legislation around the world, and the possibility of ingredients contaminating food for other species, or not permissible in certain markets.
Our final speaker was not able to be present in person, owing to his colleague recently testing positive for Covid infection, but thanks to the wonders of modern technology and the expertise of Laura Waters, he was able to appear on screen via Zoom, alongside his previously-loaded PowerPoint presentation. Yet another veterinarian, this time avian and exotic specialist Tariq Abou-Zahr from south Wales, enlightened us more about the common nutritional diseases found in captive parrots, and ways of improving their diets, as well as providing enrichment to the feeding process. In their natural environment, parrots spend many hours on foraging and feeding, followed by shorter periods of preening and sleeping. In captivity, the provision of environmental and feeding enrichment instead of the usual quick and easy access to food will help to prevent issues such as boredom, over-preening, and obesity.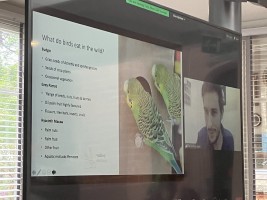 Tariq About-Zahr presenting remotely
More refreshments followed, then the participants split into three break-out groups to discuss 'what happens next'. This took the form of ideas for various research projects into parrot feeding. Nutritional requirements are still poorly understood across the wide range of species, with most information extrapolated from what is known about feeding commercial poultry. Ideas put forward included a survey of parrot-keepers on their current feeding regimes, as well as their preconceptions and misconceptions of what is good or bad. Research into the effects of photoperiod and UV and infra-red lighting on metabolism and utilisation of nutrients was also suggested, as well as further investigation of species-specific requirements. Other ideas included population surveys, and surveys of insurance claims into avian illnesses, as well as improving communication channels to reach more parrot keepers.
A second group focused on education of the parrot-owning public into the proper nutritional needs of parrots. This should include promoting reliable sources of accurate information, and should include not just nutrition, but also general welfare, enrichment, exercise, and the need for companionship. This should be a mutual learning process for all concerned, and not a conflict of the 'right way' versus the 'wrong way'. The idea of a national 'Parrot Awareness Week', similar to the highly successful Rabbit Awareness Week, was suggested.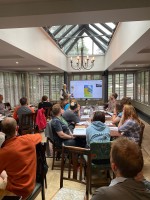 PSUK Chairman Alan Jones discussing the PFMA nutrition poster
The third group discussed the way forward for parrot diets. It was agreed that a suitable diet should be low in fat, high in fibre, and with adequate levels of protein, with essential vitamins and minerals, especially calcium and vitamin A. But how to achieve this in a palatable form, that parrots will accept, with selective feeding and neophobia? The promotion of a pelleted diet is fine in principle, but there must be minimum standards set for any manufactured foods, otherwise newcomers to the field may attempt to produce a cheap, inferior product. There should be focus on enrichment of the feeding process, to encourage foraging, and prolonging the feeding period. A poster previously-produced by PFMA was reviewed, with recommendations made for an updated, revised version.
The afternoon ended with a short question and answer session from the floor, to the four speakers present in the session, followed by mutual agreement to stay in touch and progress the ideas put forward, hopefully to the long-term benefit of the captive parrot community.