Think Parrots is an event organised by Parrot Magazine for all keepers of Parrots.
The PSUK again had a stand at the 2019 event on Sunday 9th June. The show seemed busier than ever, and there were three excellent speakers in the Masterclasses upstairs.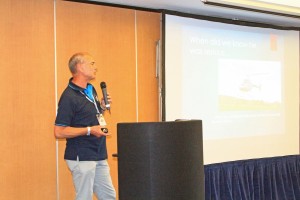 David Woolcock from the World Parrot Trust speaking about the Kiwa Project
David Woolcock's presentation on the Kiwa project was highly disturbing and emotional, but at the same time uplifting and optimistic. For full details see Kiwa Project
This year's event will be on Sunday 14th June! Cancelled owing to coronavirus pandemic.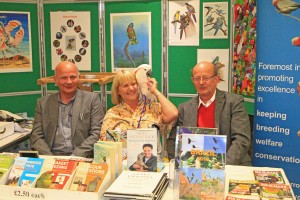 Alan & Les Rance, with Maria Caton-Jones (and Lucien!) at the Parrot Society UK stand at 2019 Think Parrots Show. (AKJ)