Operation of Sales Days at Stafford
The Parrot Society UK (PSUK) would like to announce some improvements and changes to the way we operate our Sales Days at Stafford. Following feedback from buyers and sellers and input from our Trustees, some of whom have an extensive history of buying and breeder table selling at Stafford, we have taken on board suggestions and revised our set of rules, instigated a buyer's card scheme and revised the entry times for sellers.
Firstly, the PSUK Sales regulations and conditions: we have all seen instances of poor housing of birds at the various sales events and auctions across the UK in recent years, not just at PSUK events at Stafford but sales days run by other organisations or individuals at various cities across the country. We've all seen examples of overcrowded cages, poor and dirty cages, inappropriate cages, un-well birds and birds species that shouldn't be offered for sale as obviously recently imported. Well, the PSUK has no jurisdiction over other sales events, but we can try to raise the standard at our sales days and hopefully, the others will follow suit. To do this the Trustees have revised and updated our Sales regulations and conditions to try to address the issues noted. This will improve the welfare of the birds at our events and to try to prevent any contraventions to APHA and Defra regulations and conditions of our event Licence, and to adhere to our constitution and the requirements of the Charity Commission. The major changes to the sales regulations and conditions are:
o What birds species are permitted? No birds of prey, domesticated pigeons/doves, poultry and waterfowl,
o The correct housing and staging of birds for sale: only 2 birds per cage (except for trios of small finches), no birds on the floor under the tables and correct sized cages for the birds
o Only one sales table allowed for non-members, PSUK members are allowed additional tables by discretion.
o Increased scrutiny and requirements to complete and submit sales paperwork clearly showing all birds entering the premises, details of those birds sold and the purchaser's details.
o Introduction of buyer's cards, to allow birds to be purchased anonymously with a unique number, therefore still allowing traceability via PSUK to meet Defra requirements.
Please see the new PSUK Sales Regulations and Conditions.
Buyer's cards. This is a new initiative to help address the concerns raised by some buyers and regular sellers at our sales days. The PSUK has an obligation under its Licence to record and keep for three months after the event details of all birds entering the premises and details where the birds are going to if sold, exchanged or gifted. These details are required should an outbreak of disease occur, they are not for the taxman – no prices are required on the forms. The issue raised is of privacy, because the Sales Schedule Forms are often left on sales tables in full view of everyone, it would be so easy for someone to read or photograph the forms thereby potentially obtaining the address where the birds are going to, which creates an opportunity for the theft of birds. Very unlikely, but we live in a society where these things do happen, so the PSUK has introduced a Buyer's Card that just contains a unique number (no other details whatsoever), so when a bird is purchased the seller just records the Buyer's Card number on the Sales Schedule Form. Similar to the existing process for PSUK members who provide their PSUK membership number to sellers (your PSUK membership number is printed on your monthly magazine envelope). To obtain a Buyer's card for each event all non-members need to do is register their details at the PSUK Stand, pay a nominal fee of £1.00 to cover administration and they will be issued with a Buyer's card containing a unique number. Their registration details will be held to cross reference against Sale Schedule Forms for the three month duration period to satisfy Defra requirements, once that period has expired they will be destroyed, they will not be used for any other purposes as we need to maintain our GDRP compliance.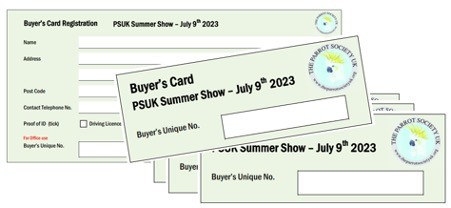 The final change to the way we operate our Sales days is we are going to trial a change in our entry times. We have been contacted by a number of breeder table sellers that it is too manic first thing, with no time to set up and put water on the sales cages before buyers are 'all over them'. Therefore, we are going to allow the breeder table seller's entry at 7 o'clock to set up and get ready for when the doors open half an hour later for PSUK members. We are aware of the practice of buying a table to just get early entry, but our Security team has been instructed to only let 'sellers' in at 7 o'clock if they are loaded up with birds for sale, all empty sales tables will be noted and the purchasers of those tables will be refused tables at future events. In addition, table holders will be issued with a different colour entry wristband to members entering at 7.30am.
We are imposing the rule changes and new initiatives to try to improve the welfare of birds at our sales days and make the day a more enjoyable experience for both buyers and sellers, and all those new visitors to the event who are interested in joining the hobby. Whilst at the same time ensuring that those regulations imposed on us by APHA, Defra and the Charity Commission are enforced, respected and complied with. Any breach of the regulations could result in significant fines to the Society, and maybe prosecution of offending individuals, so please help yourselves and us by reading and complying with the PSUK Sales regulations and conditions.