The Exhibition this year will be held on Sunday 1st October 2023. The Show opens at 9.30 am and for sat nav users the post code is ST18 0BD.
Please Note: Avian 'Flu has been confirmed at nearby Uttoxeter. This does not immediately affect our show, but if cases spread, it may well do, so watch this space. Any person bringing aviary quail must register them first with Defra, even if the flock numbers less than 50.
The registration form is available here - Quail registration

For Entry details and Show prices, please see Show Information Page.
All children under 16 years of age accompanied by a paying adult are free to enter.
THE NATIONAL EXHIBITION - Last year's show took place at Stafford County Showground on Sunday 2nd October 2022.
Meanwhile, here is a selection of photographs of the popular display aviaries from previous shows.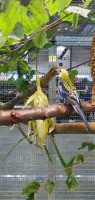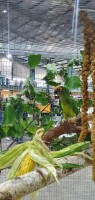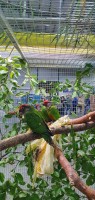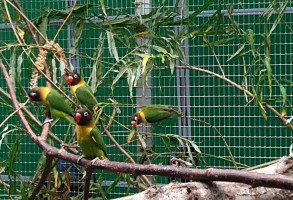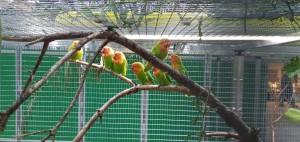 HOSTED BY THE PARROT SOCIETY UK
&
Sponsored by JOHNSTON & JEFF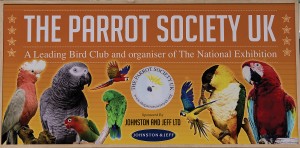 The National Exhibition is Britain's largest exhibition and sale day of caged birds and associated supplies. The National Exhibition is held at Stafford County Agricultural Show Ground, a tried and tested venue capable of holding the event successfully.
The 2019 event was again successful, with a bright, dry start to the day. Heavy showers were experienced later, but never lasted long, and did not deter our several thousand enthusiastic visitors. A broken lift made things difficult for our less mobile guests, and those transporting barrows loaded with cages or boxes, but otherwise all seemed to run smoothly.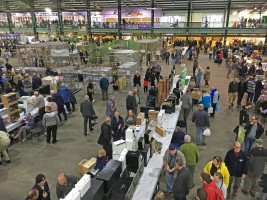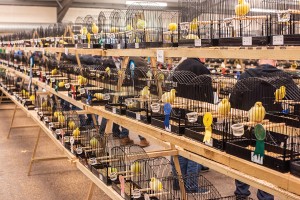 General view of the show hall; Canaries on Exhibition (Photos: Neil Randle)
A big feature for this year was a collection of display aviaries, featuring a variety of species, free-flying in aviaries decorated with natural vegetation! These ranged from finches, through parakeets and parrots, to hornbills and rollers.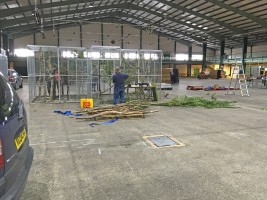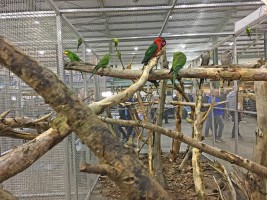 Setting up the day before; a variety of birds in the 'Australian' aviary
Future plans include a competition for bird clubs to furnish similar aviaries with their own decor and birds, with cash prizes for the best. Look out for more details!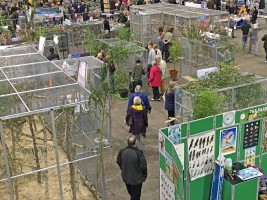 View from the gallery of the display aviaries
The National Exhibition provides not only members of the Parrot Society UK (PSUK), but non-members as well, the perfect environment to sell surplus stock and acquire new fancies or blood lines to develop and enhance your breeding success. The show also attracts many varied trade stands meeting your every need, whether that be nest boxes suitable for large Macaws right down to that all important treat for your pet Budgie.
Examples of trade stands normally available are as follows:
Aviary Supplies - Perch Brackets, Coupe Dishes, Brackets, Mesh of all sizes and grades, ropes etc through to Aviaries suitable for Macaws.
Seed Suppliers - Many stands selling specialist seed mixes, single seed, nuts, sprouting mixes, Pulses etc.
Cages - Many types of breeding cages suitable for small finches to African Greys, cage fronts, water baths, seed hoppers, drinkers.
Carry Boxes - all varieties of carry and transportation boxes, for small and large birds.
Nest Boxes - nest pans suitable for finches through to barrel shaped ones for macaws, flat pack or ready built.
Supplements - Many specialist stands selling tonics, additives to enhance the health of your bird and increase those breeding and show results.
Toys - Everything your Pet Bird requires, from pacifiers to special treats.
The other aspect of The National Exhibition is of course the Exhibition itself. There are 18 specialist Bird Societies which joined with The Parrot Society in 2007 to exhibit birds to the highest of standards. Our canary clubs are exceedingly strong and very supportive to the exhibition. There is usually an award of a beautiful inscribed Rose bowl kindly donated by Ray Howells of Birds and Things for The Best Bird in Show.
The clubs that support the Exhibition are:
London Fancy Canary Club
International Border Breeders Association
Lizard Canary Association of Great Britain
The Blue Lizard Canary Club of Great Britain
National Bengalese Fanciers Association
The Yorkshire British Bird & Hybrid Club
Canary Colour Breeders Association
South Cheshire Budgerigar Society
The Zebra Finch Society
The Parrot Society
The National Fife Fancy
The Irish Fancy International
Gloster Fancy Specialist Society
The Lovebird (1990) Society
Norwich Canary Club
The Old Varieties Canary Association
The Australian Finch Society
The Java Sparrow Society
For Entry details and Show prices, please see Show Information Page.
All children under 16 years of age accompanied by a paying adult are free to enter.