CITES uplisting of Sulphur Crested Cockatoo (Cacatua sulphurea) and the Lilac–crowned Amazon parrot (Amazona finschi)
25th August 2005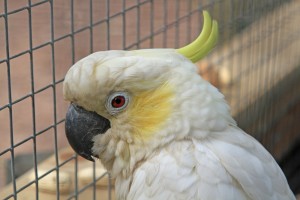 Sulphur-crested Cockatoo hen (AKJ)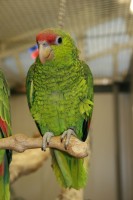 Lilac-crowned Amazon Parrot (AKJ)
The formal up-listing of all species and sub species of the Sulphur Crested Cockatoo (Cacatua sulphurea) and the Lilac–crowned Amazon parrot (Amazona finschi) to Annex A of the EC CITES Regulation came into force on the 12 August 2005.
This means that both species will now require Article 10 Certificates to allow their commercial use.
If you wish to apply for certificates then you must provide with your completed application, details of the bird's origin and how it was acquired. Each application will then be considered by Defra individually on its merits.
You do not require an Article 10 Certificate if you only wish to keep the bird as a pet and will not be using it for commercial purposes.
Defra aim to process most complete applications for certificates and permits within 15 working days, with the remainder processed within 30 working days, so you should allow this amount of time for your applications to go through.
These species are also subject to import and export controls. Further information on how to apply for import, and export permits and Article 10 Certificates, together with application forms can be obtained from the address below or from the UK CITES website
Animal & Plant Health Agency (APHA)
Centre for International Trade
Horizon House
Deanery Road
Temple Quay
Bristol
BS1 5AH
Tel 0117 372 3700