An introduction by the editor of Bird Scene Magazine Les Rance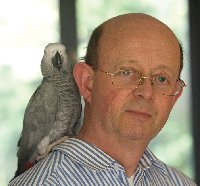 This is now the tenth edition of Bird Scene and I am really pleased with the progress that has been made with this new e-magazine. For eleven years I have edited the Parrot Society magazine which has been very interesting but from its very nature is limited to parrot species excluding the Budgerigar. Bird Scene allows me to study and enjoy all the other species of birds that are kept within UK aviculture many of which are exhibited at The National Exhibition which will again be held at Stafford on Sunday 13th October 2013. In fact one of the major objectives of Bird Scene is to publicise The National Exhibition and the bird clubs who have joined with The Parrot Society to allow their members to exhibit birds in a large exhibition. I keep Cape Doves, Java Sparrows, Gouldian finches and Forbes Parrot-finches all of which have their own individual needs and challenges and give me great pleasure to maintain, not to show standard but good aviary birds. There is no doubt that to breed a nest of healthy youngsters of any of these four species gives great satisfaction and all the time I am increasing my knowledge of my charges.
In this edition is an article on the conservation of the Scarlet Macaw (Ara macao) in Costa Rica. These birds are such beautiful parrots but need our support as many of them are caught for pets which obviously depletes the wild stock, equally as damaging is the felling of trees with nest cavities to capture the babies which means that there are fewer trees with the requisite nesting holes. Just simple deforestation to increase farmland or provide space for cattle ranching has had a substantial impact on the areas where these birds live. Support for conservation by organisations such as The Parrot Society also includes the education of the local populations so that they are aware that Scarlet Macaws are a valuable natural resource that is well worth protecting for the long term both for the beneficial work the Macaws do in their native habitat and the tourists they attract to the country, even visitors that are not very interested in birds greatly appreciate the sight of large brightly coloured Macaws and other parrots flying and gathering at the clay licks.
I am particularly delighted to have an article from Russell Kingston on Red-bellied Fire Finches. It is one thing breeding these birds but it also requires the skill and knowledge to write up the results into an interesting and informative article which is supported with some good images. There are a lot of skills being displayed in this article and I am sure that everyone who reads this article will be full of praise for Russell's dedication with all these areas that have culminated in this article.
The words on the progress that is being made on the 2013 National Exhibition are down to me so really at this point there is very little that is worth adding, just enjoy this publication and rest assured that the 2013 event will be the best ever.
Les Rance
Editor
The Parrot Society UK
To sign up to our news letter please enter your email address in the box below