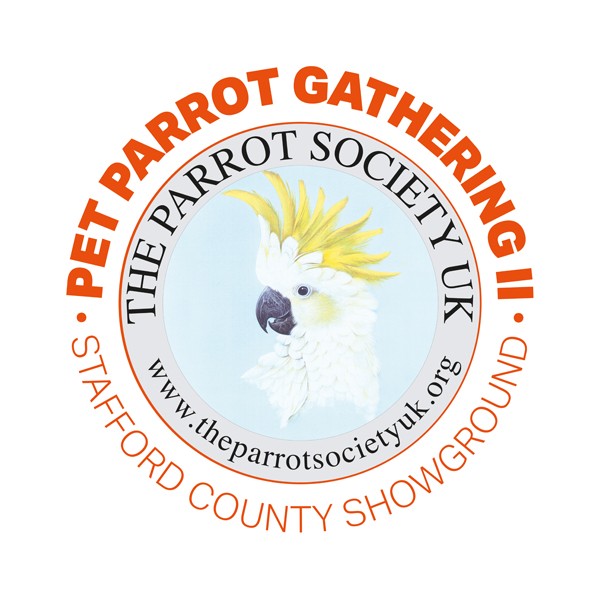 Commemorative shirts are now available to buy from our Miscellaneous Items in - Shop
Sizes S, M, L, XL, XXL at just £20 each. Buy now to pick up at the show on the day - these will not be posted out in advance.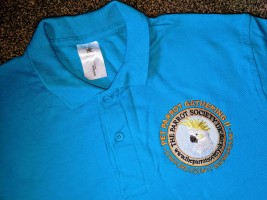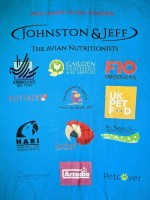 his year's Pet Parrot Gathering will be held at the same venue of Stafford County Showground on Saturday July 8th 2023, and will bring to a close the first Parrot Awareness Week (PAW), from 2nd - 8th July. The Parrot Society UK is proud to be associated with new, unique event - for more details see Parrot Awareness Week.
The Saturday gathering will be followed, as last year, by The Summer Show on Sunday 9th July. Applications for tickets to both events will be available through our on-line Shop, from 1st April this year.
This year's event will include the popular free-flying display of larger parrots by Craig Young, plus Ashley and Sarah with their Pionus parrots. Hopefully there will be a demonstration by staff from Chester Zoo on their feeding regimes for birds at the Zoo, plus harness training your birds by Garden Feathers. Popular YouTube stars David and Sophie will talk about handling, training and enrichment, and - if time permits - our own Tariq Abou-Zahr will talk about veterinary care of birds.
There are also numerous trade stands, several featuring our sponsors, featured in the flyer above, as well as representatives of Parrot Awareness Week. We are grateful to all the hard work and support of the many individuals and companies involved in putting those event together, which we are quite sure will be even bigger and better than last year's initial show (see report below). Come along and see for yourself - tickets are available via our PSUK Shop.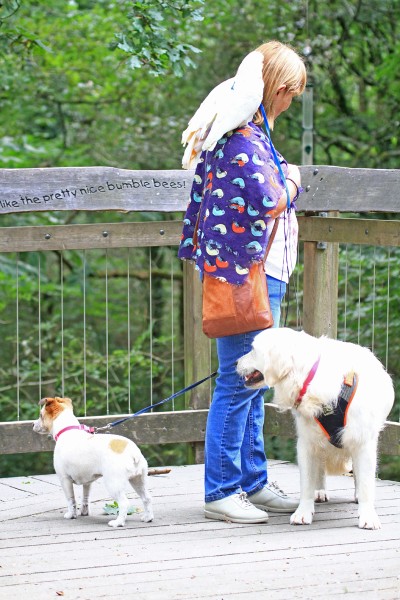 Harness-trained parrots allow a day-out for all the family in safety, giving them much-needed sunshine, fresh air and stimulation
The Parrot Society UK new venture at Stafford County Showground for 2022 - The Pet Parrot Gathering! - was a very successful day, with a reasonable number of visitors, some great talks, and a couple of flying displays, with skilfully trained macaws. It was aimed at keepers of pet parrots, and was held at SCSG on Saturday 9th July 2022, from 10 am until 3pm. It was followed on Sunday by our regular The Summer Show, for our regular hobbyist breeders.
We are indebted to our sponsors and supporters, who generously helped to make this event a success.
The improvised lecture theatre was erected like an aviary, to contain the audience for the interesting variety of speakers. A somewhat Heath Robinson construction, but in the end very successful!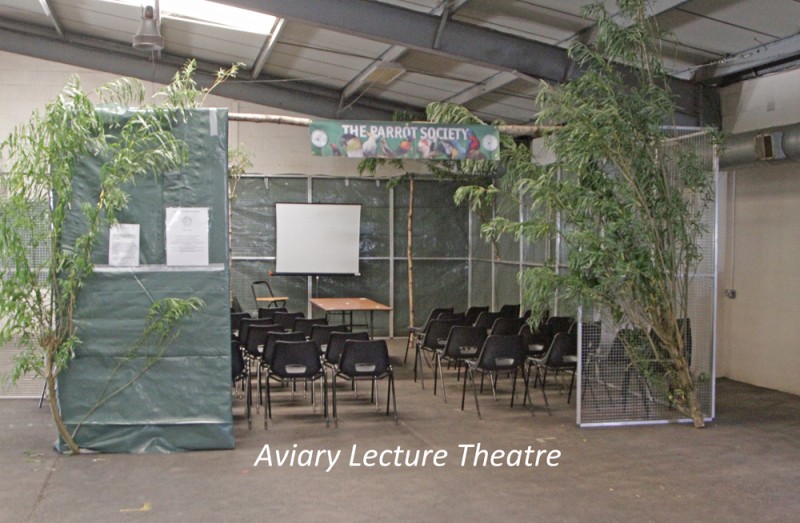 A very entertaining session was provided by Craig Young and his free-flying macaws, which flew through hoops of various sizes held by visitors of equally varying heights. One young attendee bravely held her ring aloft, with eyes tightly shut against the draught from the beating wings!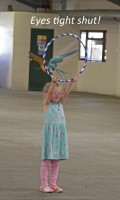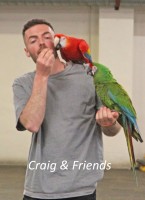 All-in-all a successful and enjoyable day.
Next year's event will be on Saturday 8th July 2023